Enjoy the crisp air and quiet trails on a winter hike. Local hikers stick to low-elevation trails to avoid ice and snow between November and May. Here are our picks for the best hikes near Vancouver that are snow-free all year.  
Winter Hiking Tips
All of the hikes on this list are at low elevation. That means they will be snow-free on all but the chilliest days. However, if there is ice and snow in the city, these trails will be snowy and slippery. Bring traction devices like microspikes and trekking poles.
It gets dark early in the winter. Pack a flashlight or headlamp on every trip, just in case.
Winter weather is unpredictable. Bring lots of waterproof and warm clothing and wear good boots.
Be AdventureSmart: bring a backpack with essential safety and first aid gear on every hike.
Leave a trip plan so someone knows where you are going and when you will be back.
Hiking is a little different during the pandemic. Read our tips for getting outdoors during COVID-19.
 
Pacific Spirit Regional Park, Vancouver
This large park near UBC has over 55 kilometres of trails to explore. Use the park map to plan your route. Here are some ideas to get you started: Head to the southern part of the park to enjoy dense the rainforest. Explore Camosun Bog on a boardwalk trail on the east side of the park. Or walk next to the ocean on the Foreshore Trail to Wreck Beach.  
 
Whyte Lake, West Vancouver
The trail to Whyte Lake heads up into the North Shore Mountains in West Vancouver but is low enough to remain out of the snow on all but the chilliest days. Follow the path up alongside Nelson and Whyte Creeks to enjoy views of the tranquil lake. Use our directions for this easy 2-hour hike.  
 
Lighthouse Park, West Vancouver
This park features beautiful ocean viewpoints and groves of huge old-growth trees. Follow our directions to make a 2.5-hour loop around the perimeter of the park. It hits the highlights, but also explores the quieter less travelled trails on the park's east side.  
 
Seymour River and Lynn Creek Loop, North Vancouver
This moderate hike makes an interesting loop through North Vancouver. Along the way, you'll walk high above the Seymour River and Lynn Creek as they rush through deep canyons. Our trail guide has step-by-step directions to help you complete the 3-hour loop.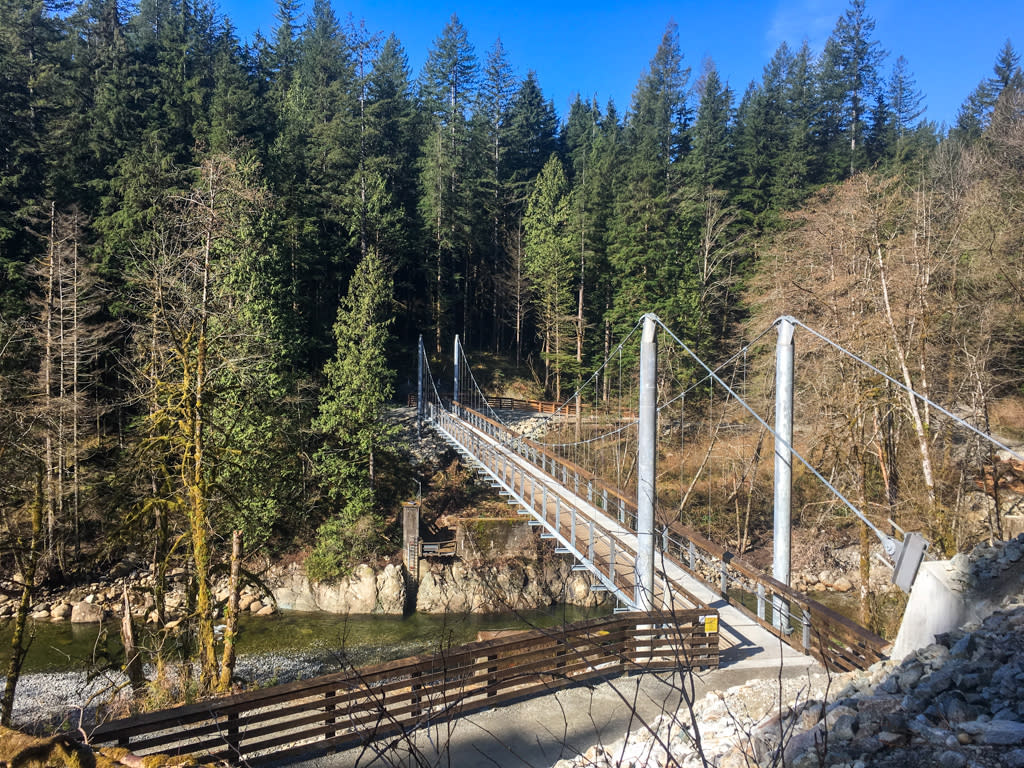 The new suspension bridge over the Seymour River. Photo: Taryn Eyton
 
Rice Lake, North Vancouver
This easy hike in the Lower Seymour Conservation Reserve is perfect for families and beginners since it's completely flat. The trail makes a loop around Rice Lake, with lots of spur trails that take you out to lakeside viewpoints. Use the park map to plan your trip.  
 
Velodrome Trail, Burnaby
Sometimes called Burnaby's Grouse Grind, this short hike is a workout. You'll climb over 500 stairs to the top of Burnaby Mountain, where you'll get a great view of Vancouver and can enjoy the Kamui Mintara (Playground of the Gods) sculpture. It's a challenging 2-hour hike. Use our trail guide for step-by-step directions.  
 
Minnekhada, Coquitlam
This regional park has a great network of low-elevation trails through the forest and around a marshy area. You can also climb up to the High Knoll viewpoint to gaze down at the Pitt River and nearby farms. Use the Quarry, Fern, and Lodge trails to make an easy 2.5-hour loop. The Minnekhada Regional Park map shows the way.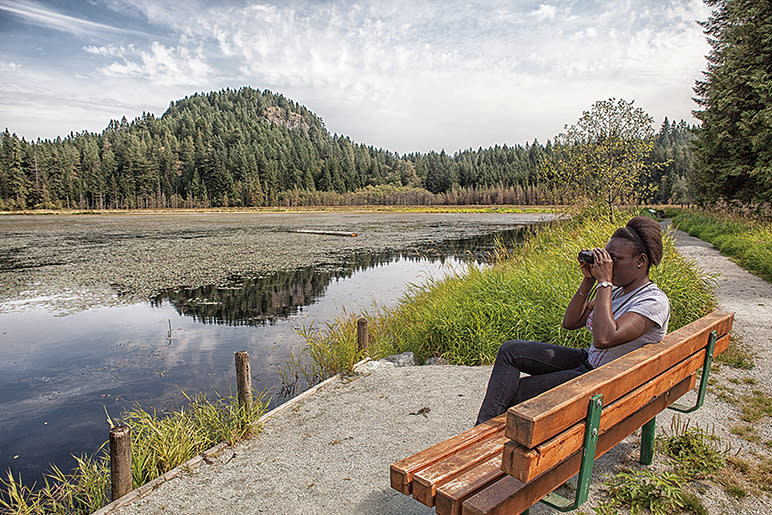 Minnekhada Regional Park. Photo: Tourism Coquitlam
 
Jug Island Beach, Anmore
This short and easy hike in Belcarra Regional Park heads through gorgeously lush forest, then ends at a rocky wilderness beach with great views of Indian Arm. Get directions for this 2.5-hour hike in our trail guide.  
 
Sasamat Lake, Anmore
In the summer Sasamat Lake in Belcarra Regional Park is overflowing with beach-goers, but in winter the trails are much quieter. The easy trail around the lake takes about an hour to walk and includes a fun floating bridge. Use the park map to stay on track.