Notable (and Walkable) Neighbourhoods & Landmarks
 
Vancouver is known for being a very walkable city with a compact downtown core, so you'll likely find many of the places you want to go are just a short walk from your hotel.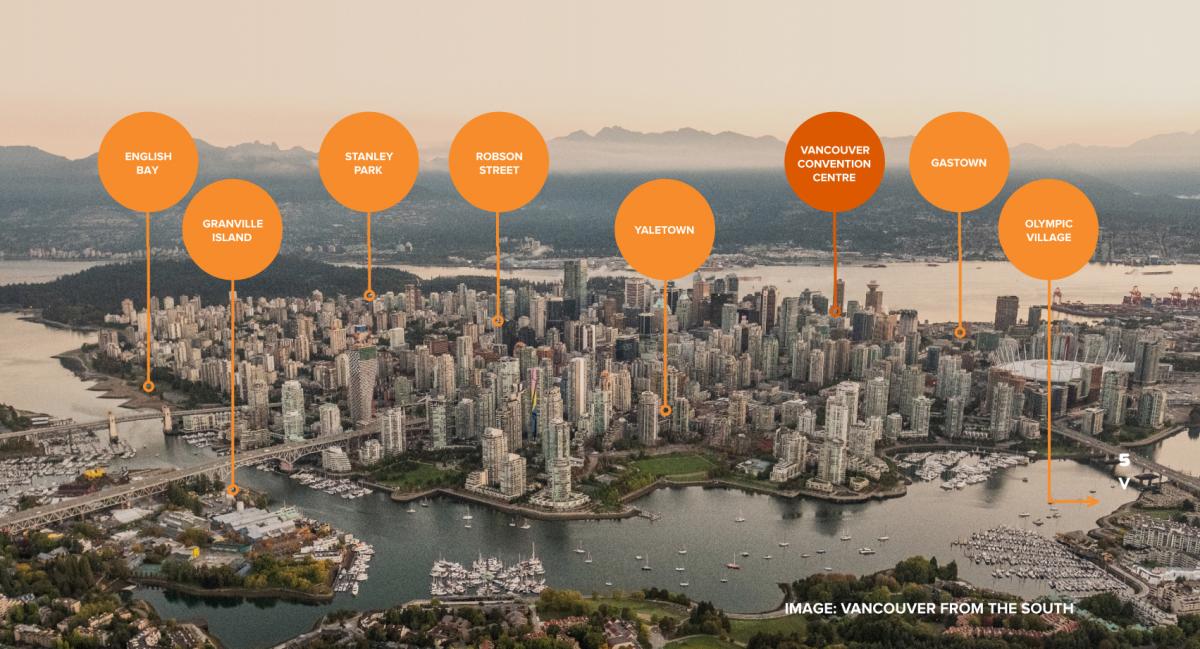 Taste exotic flavours from around the world, window shop the latest couture, or simply soak in the sunset after a day's work. Here are some hotspots you can visit by foot in under 30 minutes (or 3km) from the Vancouver Convention Centre.
STANLEY PARK
Ideally situated on a peninsula at the northwestern edge of downtown Vancouver, Stanley Park is one of the city's main tourist destinations, attracting approximately 8 million visitors each year. Featuring lovely beaches, miles of well-maintained paved and dirt trails, and an array of can't-miss kid-friendly spots (including a pool, water park, miniature railway and more), this 400-hectare (1,000-acre) haven is recognized as one of the greatest urban parks in the world.

ENGLISH BAY
An open bay encompassing the coasts of Stanley Park, the West End, Kitsilano, West Point Grey and the University Endowment Lands, and makes up the southeastern portion of the Outer Burrard Inlet. Our most popular seaside neighbourhood for soaking in the sunset.

GRANVILLE ISLAND
In the early 1900s, Granville Island was home to factories, plants and sawmills. Things are a little different today—Granville Island is both a locals' favorite and a huge draw for visitors. Technically a sandspit and not an island, the neighbourhood sits just south of the downtown peninsula, right under the Granville Bridge.

ROBSON STREET
With BC Place Stadium at one end, Stanley Park at the other, and the city's best-known shopping precinct in between, Robson Street is a must-stroll for most visitors to Vancouver. One of Vancouver's oldest commercial streets, it was once known as Robsonstrasse for the sheer number of German and European stores that opened up after the Second World War.
YALETOWN
Yaletown was once the Western terminus for the Canadian Pacific Railway, but the area's more recent reinvention dates back to 1986 when the waterfront along the north of False Creek was host to many of the venues when Vancouver hosted the World's Fair.
GASTOWN
Vancouver's oldest neighbourhood, Gastown grew from a single tavern founded by John 'Gassy Jack' Deighton back in 1867. Today, the district retains its historic charm and independent spirit. Victorian architecture houses a thriving fashion scene, impeccably curated décor boutiques, one-of-a-kind galleries and some of the best culinary fare in Vancouver.
OLYMPIC VILLAGE
Previously home to Olympic athletes, now one of the greenest communities in the world.