Blending Vancouver's beautiful cherry blossom season with the city's diverse and eclectic culinary scene, Destination Vancouver brought a taste of Vancouver to London UK. In sharing unique incentive program themes and showcasing the city's diverse culinary scene, clients enjoyed an inspired menu by two exceptional female chefs and their MICHELIN-starred culinary teams. Chef Angela Hartnett of MICHELIN-starred restaurant, Murano, hosted Chef Andrea Carlson, Canada's first female chef whose restaurant — Burdock & Co — has received a MICHELIN star. 
Vancouver's Spring and Culinary Landscape 
Few things mark spring in Vancouver more than the start of cherry blossom season. As the city's 40,000+ cherry blossoms burst with pink and white blooms, locals and visitors alike can marvel at the pink canopies that line streets and parks. Complemented by a temperate climate, Vancouver boasts a range of possibilities throughout the spring. Vancouverites and visitors can take advantage of the various outdoor activities the city offers: from biking through Stanley Park, to skiing on the North Shore mountains.  
The release of the MICHELIN Guide in Vancouver and recognition as one of TIME's World's Greatest Places specially for eclectic cuisine further elevates the city's reputation as a global dining destination. The region's multicultural influences and accessibility to fresh ingredients lends to our stature as one of the world's greatest food hubs. Vancouver's culinary landscape is distinctly multicultural, multigenerational, and multi-choice, as fresh concepts are intertwined with rich culinary traditions.  
The combined essence of Vancouver's cherry blossom season and culinary scene was brought to our clients in London, showcasing fantastic options for incentive programs and corporate events in Vancouver. Andrea Carlson, Chef and Owner of MICHELIN-starred restaurant Burdock & Co., showcased Vancouver's culinary talent with a curated dinner made in collaboration with London-based superstar Chef Angela Hartnett. 
Bringing a Taste of Vancouver to London 
Guests from across Destination Vancouver's Meetings & Conventions, Travel Trade, and PR teams were welcomed to chef Angela Hartnett's MICHELIN-starred restaurant, Murano.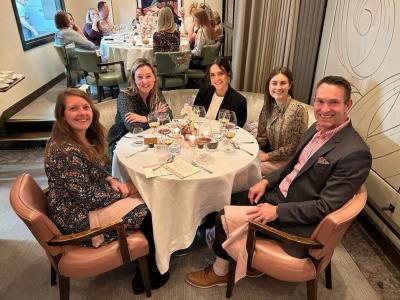 Representing Destination Vancouver's Meetings & Conventions department, Lois Wallis (Business Development, UK & Europe) and Michael Drake (Director of Sales, Meetings & Conventions, Canada & International) hosted corporate meeting planners and associations seeking inspiration for their corporate events in Vancouver and those searching for their next meeting destination. We were also joined by Stephanie Johnson of the Vancouver Convention Centre and Jane Martin from Air Canada, who provided prizes for round-trip flights to Vancouver.  
Throughout the evening, attendees drew inspiration for their next corporate events through the notes of cherry blossoms and in tasting Vancouver's various culinary offerings.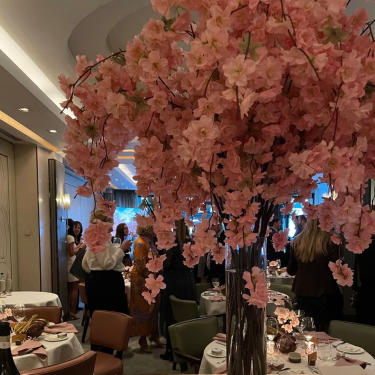 Working for the first time together in London, Chefs Andrea and Angela collaborated to create an inspired menu reminiscent of British Columbia's diverse landscape. The menu celebrated Vancouver's seasonal temperate spring weather and world-recognized Pacific Northwest cuisine.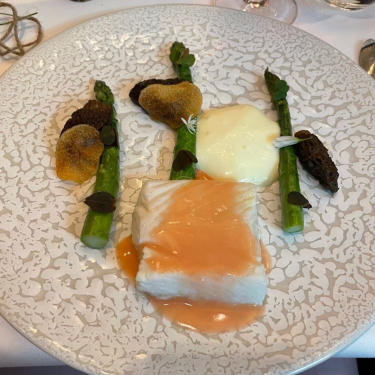 Elements of the region's local cuisine were incorporated into the thoughtfully-curated dishes, complete with BC spot prawns and BC VQA wines. The culinary teams prepared a duck tortellini with dashi brodo and orange, and offered Poached halibut, currently in-season off Canada's west coast. Mentions of cherry blossoms could be found in the dishes, with sakura butter sauce and cocktail tonic flavours.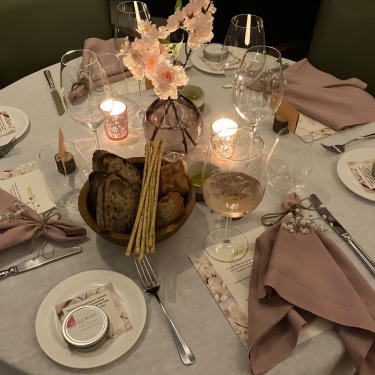 Guests enjoyed videos and theming from Vancouver's Cherry Blossom Festival around the restaurant, showcasing an overhead view of the city's cherry trees in bloom. Held annually, the Vancouver Cherry Blossom Festival's six-week event celebrates the city's unique re-emergence of spring through community events. As cherry blossoms decorated the interior of Murano and BC's local flavours were served, guests were transported to spring in Vancouver.  
Showcasing Vancouver's Culinary Talent Around the Globe 
This event contributed to Destination Vancouver's broader efforts to promote and support Vancouver's thriving culinary scene. Destination Vancouver's World Chef Exchange Program facilitates collaboration and showcases the city's culinary talent with other chefs around the globe. In conjunction with the annual Dine Out Vancouver Festival, the Vancouver World Chef Exchange fosters a community of relationships between Vancouver and international chefs.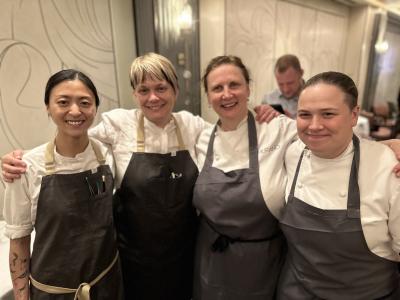 Andrea Carlson (second from left) and Angela Hartnett's (second from right) MICHELIN-starred culinary teams engaged in a Q&A discussion with attendees throughout the evening.
The collaboration between Chefs Angela and Andrea was made possible through Destination Vancouver's existing culinary relationships. This teamwork introduced a medley of working styles and was reflective of London's fast-paced environment and Vancouver's laid-back feel: both culinary teams felt welcomed through the dichotomous approaches and integrated their unique culinary styles within the menu.
Andrea Carlson: Chef of Canada's First Woman-Owned MICHELIN-Starred Restaurant 
In 2023, Vancouver-based Burdock & Co achieved recognition by MICHELIN with its rustic appeal and farm-to-table cooking. Chef and Owner of MICHELIN-starred Burdock & Co, Andrea's seasonal plates celebrate BC's diverse environments and capture the essence of farm-to-table dining. Andrea's close connection between food and nature is a foundation of her culinary philosophy. Through a commitment to homegrown ingredients and active support of local food systems, Andrea has become a driving force behind Vancouver's locavore movement. 
---
As the night came to an end, our team and clients walked away feeling inspired by Vancouver's temperate springtime and world-recognized cuisine. With an abundance of outdoor activities, the beauty of cherry trees in bloom, and access to MICHELIN Guide restaurants, delegates and incentive groups can enjoy all Vancouver's springtime has to offer. 
For more information on how you can experience springtime in Vancouver, please contact London-based Lois Wallis at lwallis@destinationvancouver.com.