SAFE TRAVELS STAMP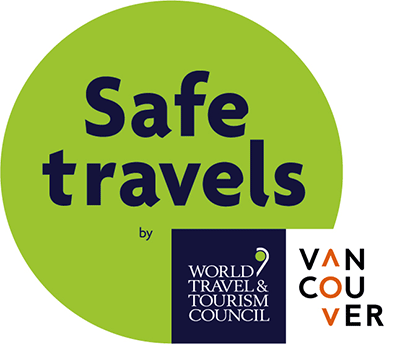 Destination Vancouver has recently received the Safe Travels stamp from the World Travel & Tourism Council (WTTC), which allows travelers to pinpoint global destinations where they can experience "safe travels". 
The Safe Travels stamp is a signal to visitors that our destination is safe to visit, which will help rebuild consumer confidence and trust. This will also make Vancouver look more attractive to both domestic visitors and international travelers for when the borders reopen. Over fifty destination authorities from all over the world have been awarded the Safe Travel Stamp, including destinations in Canada.
Click here for more information.
What is WTTC?
The World Travel & Tourism Council represents the global private sector of Travel & Tourism, with a mission to ensure the sector is seamless, secure, safe, inclusive, and sustainable. In response to the COVID-19 pandemic, the WTTC has created the Safe Travels stamp, which is the world's first ever global safety and hygiene stamp for the travel and tourism industry.
Recipients of the Stamp
Members that have achieved the Safe Travels Stamp and have committed to ongoing compliance with WTTC global protocols will be recognized in their listings on the Destination Vancouver website.
Who is eligible? 
As a public destination authority, Destination Vancouver can grant the Safe Travels stamp to tourism businesses who can demonstrate they have met the global health and hygiene protocols outlined by the WTTC. Eligible tourism operators can then use the promote the Safe Travels stamp on their own channels.
As per WTTC, the stamp is available to the following:
Companies involved in Travel & Tourism such as hotels, restaurants, airlines, tour operators, attractions, outdoor shopping, transportation, and airports
WTTC members will have to contact The WTTC team at enquiries@wttc.org. Only non-WTTC members can apply through us.
How to Apply?
The Safe Travels stamp is based on self-evaluation and it is not a certification. Users of the stamp have confirmed that they have implemented, and will ensure ongoing compliance with, the Safe Travels protocols and, for aviation, the International Civil Aviation Organization's "Takeoff: Guidance for Air Travel through the COVID-19 Public Health Crisis".
Click on the button below to fill out the application form.
Resources
Want more information? Here are some links to resources you might find useful:
Contact Gwendal Castellan gcastellan@destinationvancouver.com if you have any questions or comments regarding WTTC certification for your business.