Vancouver Movie Month
Vancouver; famous for seafood, snow-capped mountains, scenic lookouts and... film? That's right, Vancouver is often referred to as the Hollywood of the North, forming the backdrop to a plethora of your favourite movies and TV shows, due to its magnificent natural surroundings and variety of landscapes. Admire Vancouver's cherry blossoms in the Spring, explore its rainforests in the Summer, hit the ski slopes in December, and enjoy the vibrant city life, food and drinks scene all year round.
To get the word out, Tourism Vancouver are partnering with Melbourne's beloved Rooftop Cinema to host Vancouver Movie Month, a month-long gala of Vancouver-inspired things to see, eat, drink and win.
Twelve films shot in Vancouver will be screened during the month of February, offering a glimpse into the stunning Canadian city and what it has to offer. Moviegoers will also get a taste of Vancouver, with Maple Cheeseburgers, Frozen Nanaimo Bars, and two distinctly Canadian cocktails, available on the Rooftop.
Finally, don't miss out on the chance to win a trip to Vancouver for you and a friend, to see and experience the beauty and magic of the city in the flesh. Simply buy a ticket to a Vancouver Movie Month film at the Rooftop Cinema and enter your unique order number into the entry form below to go into the draw to win (each ticket is an entry into the draw).
Good luck!
Vancouver Movie Month: Now Showing
Fly non-stop to Vancouver with Air Canada
Air Canada is the only airline to offer direct seasonal services between Australia and Canada. From Melbourne the airline offers four non-stop Boeing 787 Dreamliner flights in a week to Vancouver, from where passengers can continue on to more than 110 destinations across North America. Air Canada also operates daily services to Vancouver from Sydney and Brisbane, with passenger on all three routes offered the option of Economy Class, Premium Economy and Air Canada Signature Class cabins.
Find out more
Vancouver Movie Month: Win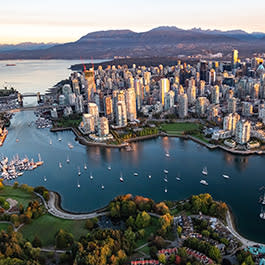 Want to discover firsthand why Vancouver is one of the most beautiful cities in the world? You could win a trip to Vancouver for you and a friend. To enter the competition:
Buy a ticket to a Vancouver Movie Month film at the Rooftop Cinema
Enter the unique order number emailed to you into the entry form below (each ticket purchased is an entry into the draw)
This competition is now closed
Congratulations to the lucky winner: Bec Nicolussi