Voted North America's Best Airport a record-setting 10 years in a row, and holding distinction as the second-largest airport on the continent's West Coast, Vancouver International Airport (YVR) is the primary gateway to Western Canada and accessible from countries across the globe.
One delegate travelled to Vancouver from Palestine for the 2019 Women Deliver conference (read her compelling story here). Palestine does not have an airport, so after travelling from Palestine to Amman, and then to Vancouver, she was surprised and grateful at the ease of entering the country through YVR. "I was really surprised by how well organized the Vancouver airport was," she said. "I had in mind that we would spend hours being questioned. However, it was probably the smoothest airport procedure I've encountered. I gave my paper receipt to the officer, and all he did was look at it and say, 'Welcome to Canada'. God bless Vancouver."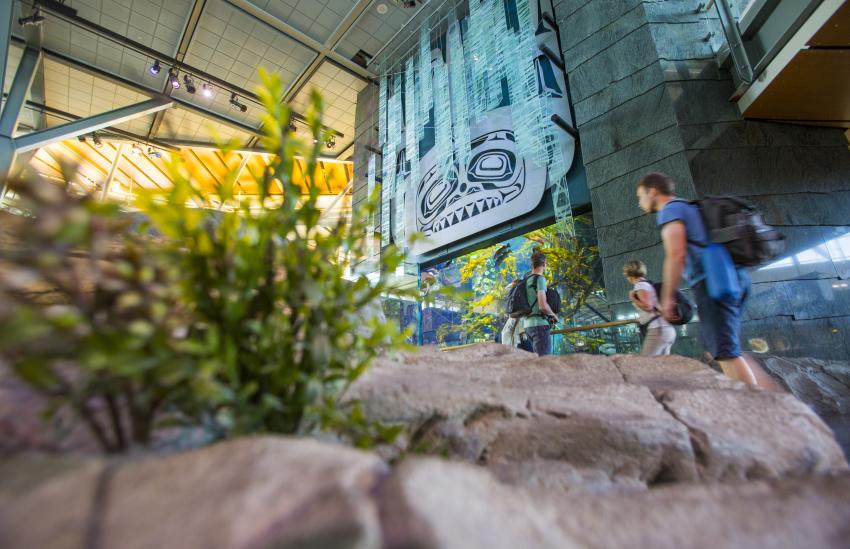 Courtesy Vancouver International Airport
YVR is one of the fastest growing international airports in North America, welcoming 25.9 million passengers in 2018 (an increase of 7.3% over 2017). Fifty-six airlines serve the airport, connecting delegates and leisure travellers to more than 125 non-stop destinations. And when delegates arrive, they are immediately immersed in nature and beauty. (Delegates with flying anxiety are encouraged to review Fly Calm, a digital resource created by YVR and the Canadian Mental Health Association that features tips, tricks and strategies for sailing through your next flight.)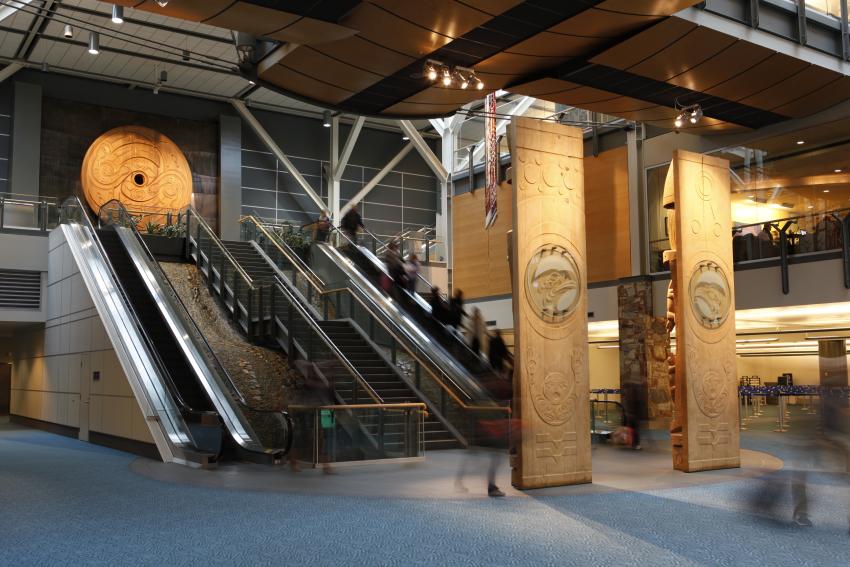 Courtesy Vancouver International Airport
Inspired by the diverse landscape and peoples of British Columbia, YVR's calming art and architecture draws on themes of land, ocean and sky. In the arrivals area, two Musqueam Welcome Figures stand among stairs and streams, offering travellers a traditional Coast Salish welcome. The international terminal is home to the dramatic Orca Chief and the Kelp Forest, situated above an enormous Aquarium; the work is inspired by ancient myths and cultural traditions of the Haisla people.
YVR is also home to several community spaces that encourage locals and visitors to slow down, inhale the fresh coastal air, and enjoy Vancouver's natural attributes. For example, directly in line with the south runway is Larry Berg Flight Path Park, a prime location for plane-watching and picnicking; the playful park features paper airplane benches, a bike tune-up station, and trails and runway paths that mirror the markings and lights of real runways.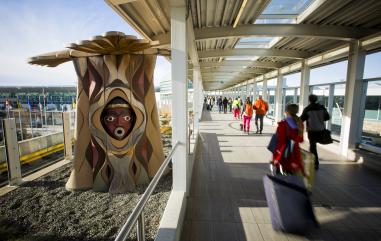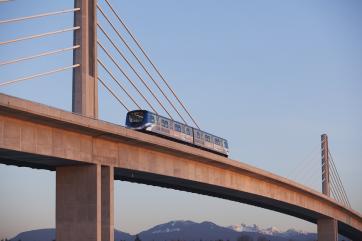 Courtesy Vancouver International Airport
From YVR, the journey to downtown Vancouver is painless, inexpensive and quick: the Canada Line rapid transit train whisks visitors from airport to city centre in less than 30 minutes (half the average time it takes to drive). The station is also home to one of the largest living walls in North America, standing tall at 18 metres high and home to 28,249 plants that collectively clean the air while dampening noise from the train.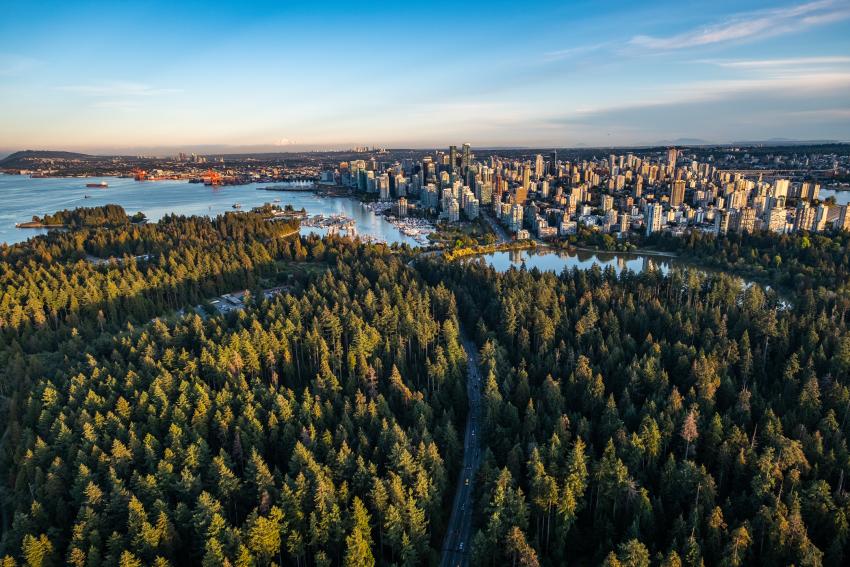 Delegates will emerge into the heart of bustling downtown Vancouver, caressed by the breeze of the Pacific Ocean and faced with a dramatic northern backdrop of coastal mountains. Despite downtown's cosmopolitan vibe, nature is always steps away, whether urban parks, including 450-hectare Stanley Park in the centre of the city; sandy beaches perfect for suntanning, swimming and beach volleyball; harbour seals, rare birds and other wildlife (groups can see wildlife up close with a guided whale watching or high-speed zodiac tour); rainforest trails; and much more.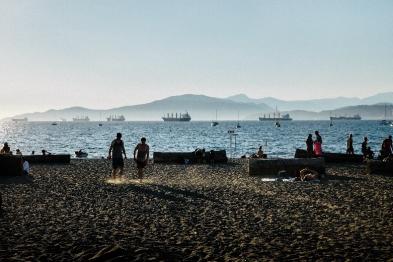 As soon as they step off the plane at YVR, delegates will be immersed in Vancouver's myriad natural wonders. To learn more about the ease of travel to and within Vancouver, contact Tourism Vancouver's Meetings team.