In January 2019, Best Cities member Tourism Vancouver became the first destination marketing organization in North America to create a Manager of Sustainable Destination Development position. Though many organizations incorporate sustainability responsibilities into existing jobs roles, the benefits of hiring an environmental expert are plentiful. So – what's in it for your business?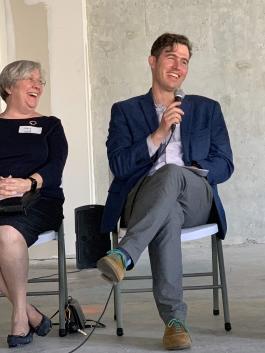 Gwendal Castellan is Tourism Vancouver's Manager of Sustainable Destination Development – a role that has evolved from helping stakeholders implement eco-friendly initiatives to engaging with City of Vancouver policy managers, external stakeholders and residents. Working closely with Tourism Vancouver's Meetings and Conventions team, Gwendal carries a weighty responsibility: helping to raise Vancouver's profile as a global leader in sustainability. Working with all levels of government, Gwendal leads the charge to influence change and champion regulations in support of this goal. He sits on the Sustainability Advisory Committee for the Events Industry Council, the Social Procurement Roundtable and the Technical Advisory Committee for the Global Sustainable Destinations Index; he is also Board Secretary for the Vancouver Tourism Facility Managers Association.
Gwendal's portfolio extends well into the meetings world: he regularly delivers guest presentations at conferences held in Vancouver – and travels to conferences around the world – promoting tourism's responsibility in helping to shape destination sustainability. He also supports event planners with recommendations for greening their Vancouver meetings, and assists conferences and businesses with navigating the complex world of environmental certifications and programming.
Now that event planners, attendees and host associations are vigilantly hyper-focused on sustainability, meetings are increasingly being scrutinized to ensure they leave minimal environmental distress. There are more resources than ever for events and organizations to obtain certifications – and sometimes, it can be hard to know what to prioritize. For example, the Events Industry Council recently introduced six new supplier standards for sustainable events (replacing the APEX/ASTM Environmentally Sustainable Meeting Standards). Green Key Meetings shines a spotlight on global venues that adhere to stringent sustainability measures. Climate Smart Certification offers a program that designates organizations as leaders in reducing greenhouse gas emissions. Buy Social Canada connects socially driven consumers with social enterprise suppliers, supporting relationships that benefit local communities. The Global Sustainable Tourism Council awards destination certifications such as Earth Check, Green Destinations, Biosphere Responsible Tourism and others. And that's just the tip of the sustainable meetings iceberg.
Sustainability managers such as Gwendal help businesses, event organizers and local businesses wade through the overwhelming number of certifications, programs and designations to not only ensure sustainability standards are met, but also to introduce new initiatives that raise profiles of meetings and businesses so they can become sustainability leaders. In the years Gwendal has worked at Tourism Vancouver, the organization has evolved into a go-to resource for environmental education, not only among regional businesses and government but also for visiting events and associations.   
"Vancouver is a city where environmental stewardship and progressive social development is paramount," said Gwendal. "Outward-focused industries like tourism and business events carry a responsibility to deliver on promises of stewardship, and Tourism Vancouver has become an industry leader in terms of integrating sustainable thinking into daily operations."
Clearly, there's a lot to unpack when it comes to sustainability. But with a professional like Gwendal leading the charge, your business can contribute to massive change, supporting the betterment of our planet and bolstering your reputation at the same time. Take the first step by learning how to green your Vancouver meeting.