Bustling patios, al fresco festivals and beaches packed with sun worshippers – summer is the perfect time of year to explore Vancouver's coveted natural assets. Planners who book a meeting in summer will benefit from happy delegates eager to partake in pre- and post-activities and sightsee between sessions. Read on for a handy resource that will help delegates maximize every sun-washed second spent in Vancouver.
First and most important: what's the weather like?  June, July and August are the city's hottest months, though the oceanside location assures temperatures remain mild compared to inland destinations. Expect blue skies and beaming sun; however, keep in mind the city is situated in temperate rainforest so plan for sporadic showers. Temperatures typically hover between 19˚C and 23˚C (66˚F and 77˚F), dipping to around 5˚C (10˚F) overnight.  
How should I dress? Light layers are your best friend when warm temperatures meet coastal breezes. Bring sunglasses and sunscreen, as well as a light sweater for cool evenings. Always bring comfortable shoes to Vancouver – the city is extremely walkable, and some of your best sightseeing will happen on foot (plus, nothing beats post-meeting strolls on the seawall, whose starting point is conveniently situated outside the Vancouver Convention Centre!).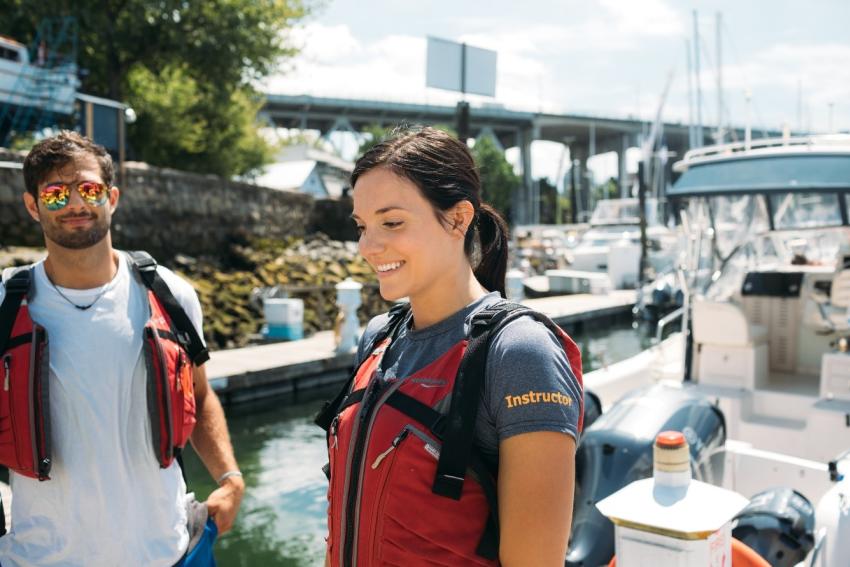 Credit: Tourism Vancouver/Rishad Daroowala
Suggestions for post-meeting summer activities? Get outside! After a full day of boardroom banter, nothing feels better than changing into comfy clothing and rejuvenating in the great outdoors. Delegates can stretch their legs along the seawall with a walk, jog or cycle towards Stanley Park; embark on a stand-up paddleboarding lesson out of English Bay; rent a kayak, or take a guided tour, from Granville Island; or golf at one of Vancouver's spectacular courses.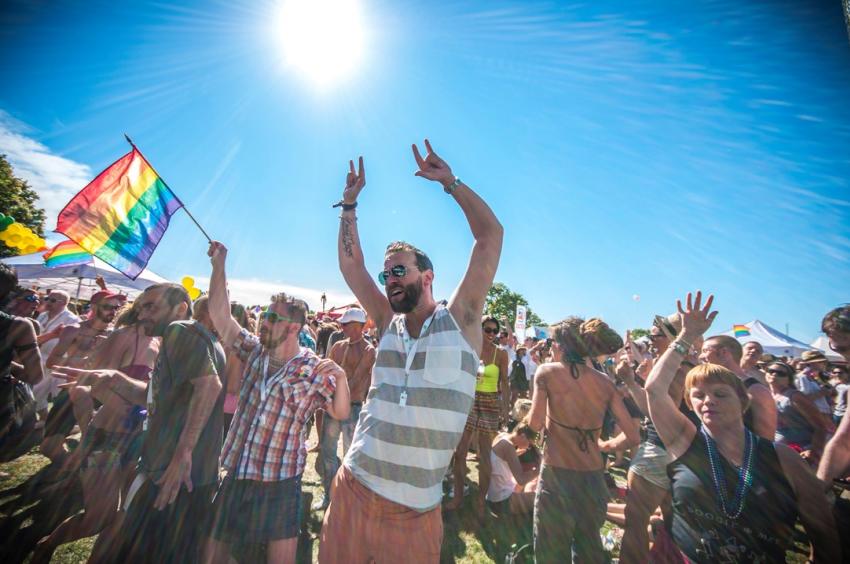 Credit: Tourism Vancouver/Michael Song
Are there any local festivals in summer? Yes! Summertime festivals are rampant, and a perfect way to rub elbows with locals while soaking in the distinctive personalities of Vancouver's diverse neighbourhoods. Indulge in Greek delicacies at Greek Summerfest; view multimedia Japanese-Canadian art, as well as martial arts demonstrations and an amateur sumo tournament, at Powell Street Festival; and watch Chinatown sparkle to life at the Vancouver Chinatown Festival. During the August long weekend, Vancouver Pride Parade and Festival welcomes hundreds of thousands of revelers for a citywide party complete with rainbow colours and wacky costumes; and the highly anticipated Honda Celebration of Light fireworks competition lights up the skies over English Bay over three nights in late July and early August.
What about theatre? In summertime, the best place to catch a show in Vancouver is outside! In picturesque Vanier Park, watch a Shakespearean sunset performance at Bard on the Beach, set against a stunning water-and-mountains panorama (for a special treat, rent the Marquee tent for up to 80 delegates, complete with picnic boxes and pre-show talks in the Bard Village); or wander into Stanley Park for an alfresco musical courtesy of Theatre Under the Stars. For those who prefer big-screen action, Summer Cinema brings classic movies to Second Beach – the perfect spot for a post-conference picnic.
What about delegates who are sports fans? One of Vancouverites' most beloved summer traditions is catching a ball game at Nat Bailey Stadium, which hosts Vancouver Canadians games all summer long – meeting planners can also book group packages for up to 375 people in the all-you-can-eat barbecue picnic area. The BC Lions CFL team hosts football games at BC Place Stadium, conveniently situated in the heart of downtown; also at the stadium are Vancouver Whitecaps MLS soccer matches. Seeking a memorable incentive experience? Groups attending Whitecaps matches can be part of the opening ceremonies, or join the pre-match action on the pitch – learn more here.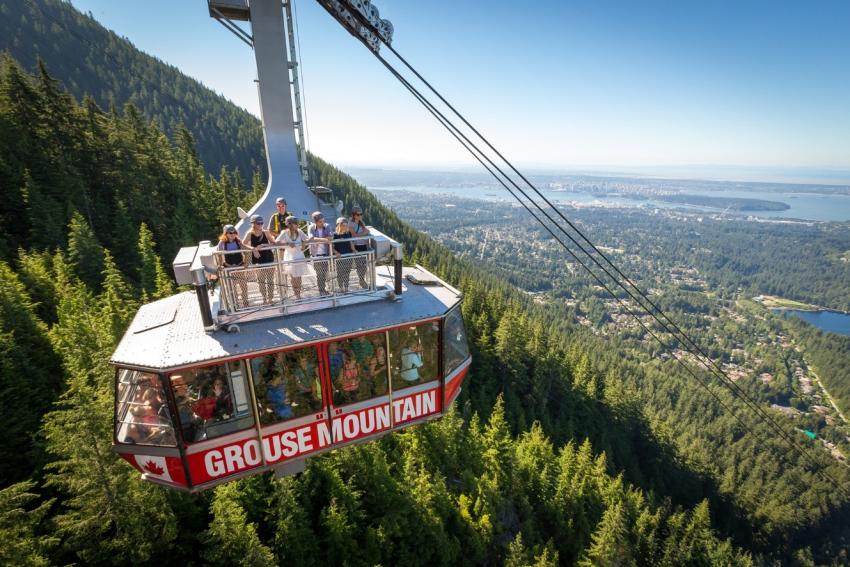 Credit: Tourism Vancouver/Devin Manky
Are there specific meetings venues that shine best in summer? Most of Vancouver's meetings venues are suitable for year-round conferences, but several show off stellar assets in summer. Grouse Mountain is a prime example with intimate meeting spaces overlooking the city and ocean sprawled 1,100 metres below; planners can build packages that incorporate gondola admission to the peak, catering and post-meeting activities like ziplining and meeting with resident grizzly bears Grinder and Coola. (For a comprehensive list of offsite venues, click here.)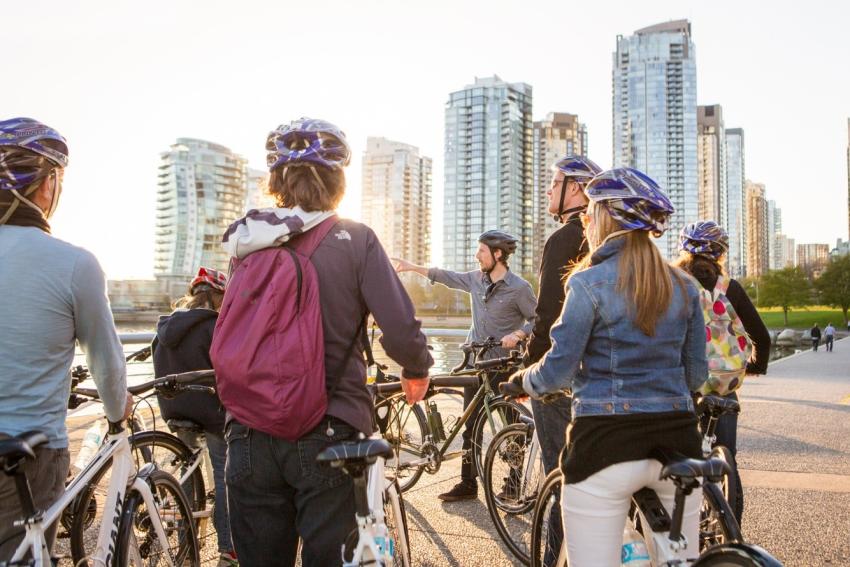 Credit: Cycle City Tours
What about team building options? Organized sightseeing is a great way to showcase as much of the city as possible to time-crunched delegates – and in summertime, you'll want to opt for tours that incorporate strolling or cycling. Cycle City Tours offers options ranging from comprehensive city explorations to journeys into Stanley Park; the company's newest excursion is the Night Bike Tour, ideal for summer with a sunset ride showcasing the city's famed neon signs, light installations and nature lit by twilight. Alternatively, treat delegates to a thrilling journey into the city's dark past with one of Forbidden Vancouver's interactive neighbourhood forays.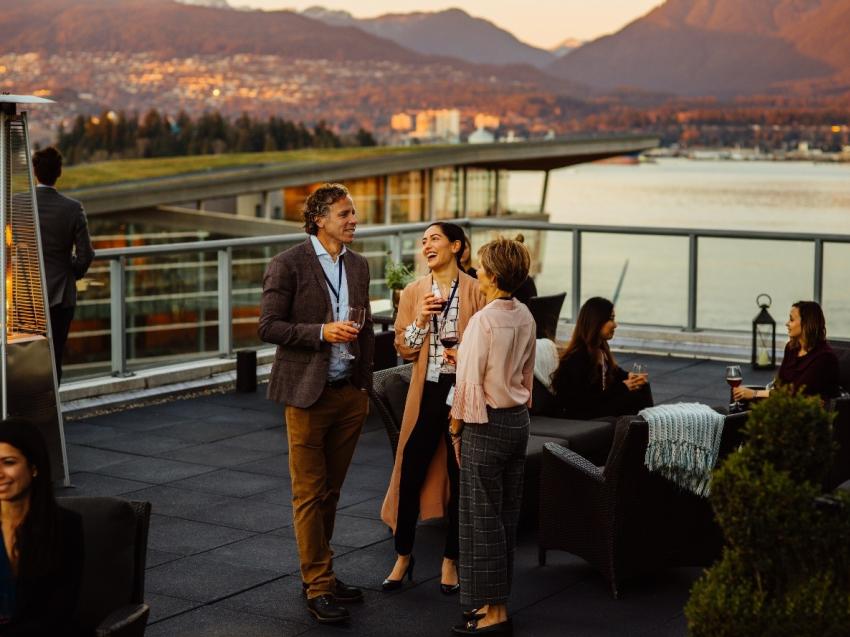 Credit: Tourism Vancouver/Hubert Kang
Are there group dining venues better suited to summer? Patios citywide are packed during Vancouver's summers, so book early to ensure your large group can be accommodated. Recommendations for refined spaces that will wow delegates include Botanist, whose elevated Pacific Northwest cuisine and experimental cocktails can be enjoyed in the outdoor terrace garden directly across from the Vancouver Convention Centre; Cardero's, which serves incredible cedar-plank salmon along the Coal Harbour seawall; and The Roof, a trendy rooftop terrace attached to high-end steakhouse Black + Blue.
Eager to learn more about summer meetings in Vancouver? Click here. Then, when you're ready to book, contact Tourism Vancouver's Meetings & Conventions team. See you in the sunshine!