Host your most sustainable conference in one of the world's most sustainable cities (Dave Delnea Images).
Organizing a sustainable conference in an unfamiliar city might seem like a daunting task, particularly when you're overseeing multiple logistics – but even simple tweaks can have a big impact. Whether hiring local experts to integrate social and environmental responsibility, or making simple choices to reduce harmful emissions, our stress-free guide will help you host your most sustainable conference ever in Vancouver.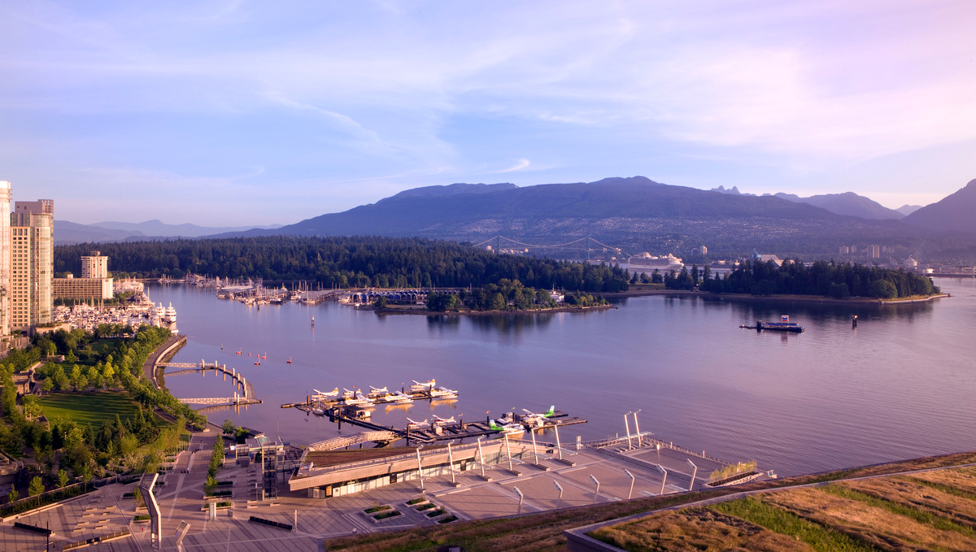 Several hotels are within easy walking distance of the Vancouver Convention Centre (Fairmont Pacific Rim).
Choose a central venue. Vancouver is an extremely walkable city, and most conference venues are situated within easy walking, biking or transit distance from major hotels. The Vancouver Convention Centre – an environmental leader as the world's first convention centre earning double LEED Platinum certification – is directly connected to the luxurious Fairmont Pacific Rim, which boasts more than 15,000 square feet of ballroom and conference space. The majestic Morris J Wosk Centre for Dialogue at Simon Fraser University, whose concentrically-tiered symposium seats 154 people, is a six-minute walk from The Fairmont Waterfront, which can minimize your event's ecological footprint through disposable-free service, donating leftover food to charity, and offering carbon neutral options in guestrooms. The University of British Columbia's impressive variety of conference and networking venues – including the architecturally stunning Chan Centre for Performing Arts and Museum of Anthropology, as well as Nest Catering & Conferences, whose 250,000 square feet of LEED Platinum Certified meeting space is listed among the world's most sustainable venues – are reachable from downtown Vancouver via direct public bus.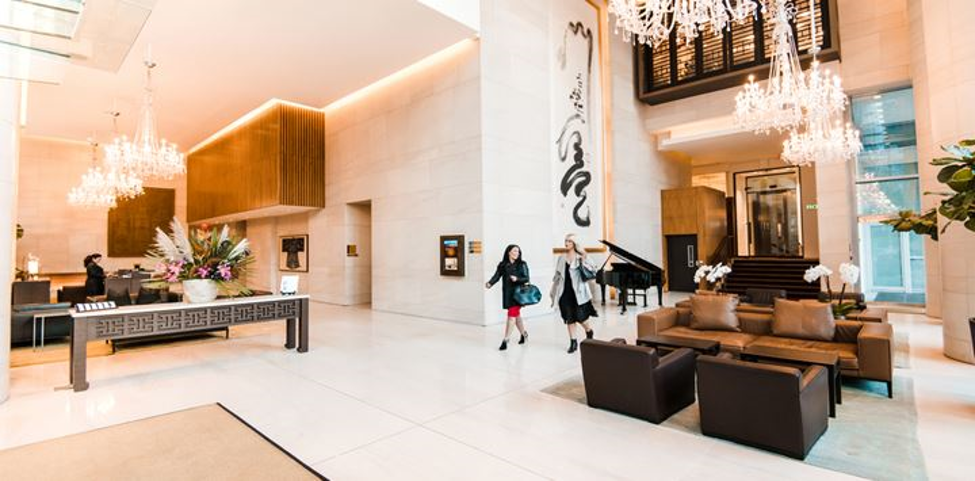 Shangri-La Hotel Vancouver has achieved the coveted Five Green Key designation (Shangri-La Hotel Vancouver).
Book a sustainable hotel. Green Key Global makes it easy to find sustainable accommodations around the world by evaluating and certifying properties based on their eco-initiatives. During your Vancouver conference, you can do your part for the planet by selecting room blocks in a Five Green Key property – the highest ranking achievable; options in Vancouver include Hyatt Regency Vancouver, The Fairmont Waterfront, The Listel Hotel and the Shangri-La Hotel, all located in the downtown core.
Hire a sustainable supplier to manage event waste. You already know that events can generate an incredible amount of waste, whether leftover food and coffee cups, décor and AV or even name badges – but you don't have to deal with the detritus alone. Waste management companies will help you achieve reduced or zero impact by overseeing responsible waste removal. Options include Binners' Project, which empowers local binners to engage in event waste sorting and diversion management, thereby fostering social and economic inclusion and building community resilience; and Urban Impact, whose team will help you develop a sustainability plan, educate attendees about the importance of waste diversion and reduction, and generate a post-event impact report.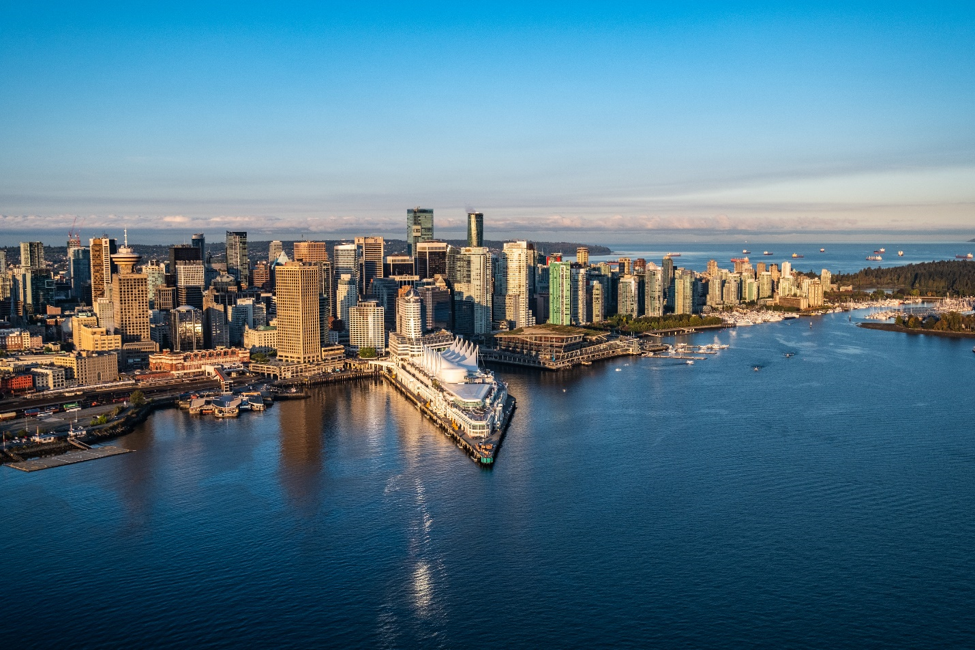 Even small changes can significantly lower your conference footprint (Albert Normandin).
Evaluate your conference footprint. Sometimes it's not feasible to host a zero waste event – but that doesn't mean you can't make an impact. Consider hiring a consultant like ConnectSeven to plan and calculate your event's overall carbon footprint. Then, work with a company like Offsetters to calculate, reduce and offset your event's overall emissions. Offsetters can also help designate your event as "climate-friendly", "carbon-neutral" or "carbon-positive", appealing to delegates who are advocates for sustainability.
Use a social enterprise supplier. Support the local community while taking care of your conference needs by using a socially responsible supplier – in Vancouver, you can reference Buy Social Canada. In addition to finding certified businesses to work with, you can also incorporate educational opportunities for delegates to learn about social enterprises and grow their own social impact.  
Surprise and delight attendees with socially responsible gifts. Instead of gifting delegates with pamphlets or trinkets that will inevitably find their way into the garbage, consider sourcing gifts through socially responsible businesses like East Van Roasters, whose exquisite bean-to-bar chocolate and coffee are available wholesale for conferences; even better, the company supports at-risk residents by offering meaningful work in a supportive environment.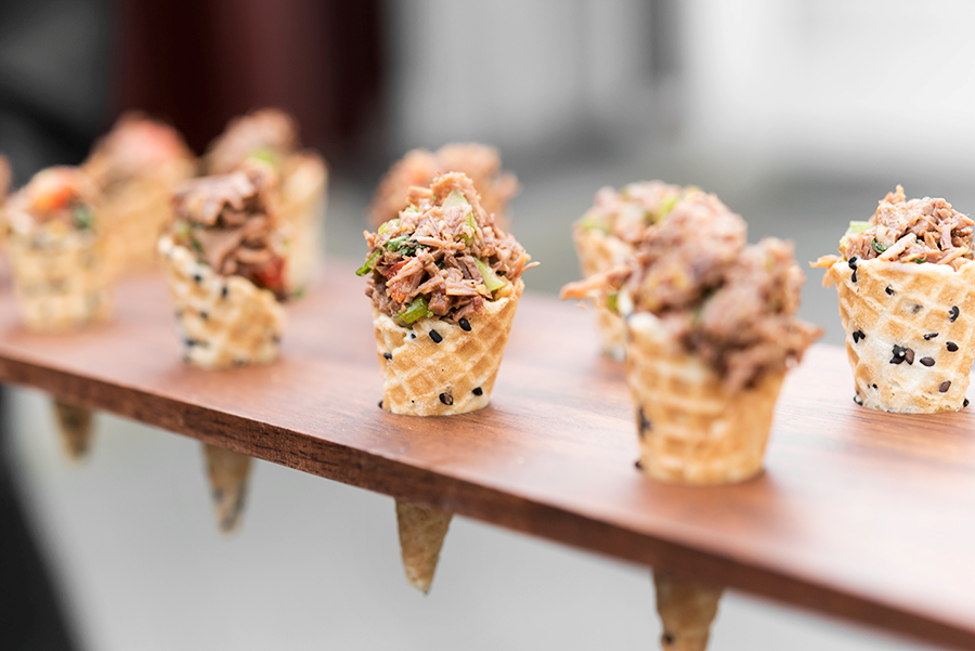 Opt for a sustainable or socially aware caterer (Culinary Capers).
Hire a sustainable or socially aware caterer. Options abound for superstar caterers that support sustainability, including Culinary Capers, event partner of the OceanWise sustainability program that helps diners make ocean-friendly seafood choices; the company also donates unused food to the Downtown Eastside Women's Centre, recycles 200 gallons of cooking oil annually and uses biodegradable cleaning products. Savoury Chef prioritizes local suppliers, uses enzymes instead of harsh chemicals for cleaning and employs energy-friendly vehicles. Finally, Potluck Catering employs low-income residents, providing them with a dignified way to regain confidence, skills and economic independence – a catering choice that every attendee can feel good about.  
For more tips on greening your next conference, contact Tourism Vancouver's Meetings team.