Amid the hectic hustle and bustle of PCMA Convening Leaders, a sleek space in the Elevate area of Hall D beckoned frazzled delegates. Fifteen minutes after entering the sleek haven, they emerged renewed, refreshed and ready to tackle the rest of the day's meetings, seminars and networking events.
The magically rejuvenating space was Vancouver's Mindfulness Lounge, whose soothing vibes set the scene for an array of guided meditations, breath work sessions and yoga poses. The benefits of these centuries-old practices are directly applicable to PCMA delegates, particularly improved focus, increased energy and reduced stress. Given the healthy lifestyle inherent in Vancouver – and a love for yoga that rivals coffee, cute pups and sushi – Tourism Vancouver and the Vancouver Convention Centre decided to create a den of tranquility at PCMA Convening Leaders that would remind delegates to "Think Better and Move More".
I don't know about you, but incorporating movement & wellness into my day not only makes my day more productive, but more enjoyable as well. 🙏@VanConventions & @MeetVancouver for making sure this option existed for our attendees. 🧘‍♀️#movementismedicine #meetinvancouver #pcmacl pic.twitter.com/UYYjH7YHrO

— Katie Dolan (@OttawaKD) January 8, 2020
Partnering with San Francisco-based yoga company Office Meets Yoga, the Vancouver teams organized a reflective haven where delegates could pop in for some quick breath work, meditations or chair yoga, and learn techniques and stretches that could be used in the office and on the road. Lounge visitors were also invited to choose from a selection of temporary intent tattoos whose slogans – "Breathe", "Visualization" or "Transformation" – reminded the wearer of their intention for the conference.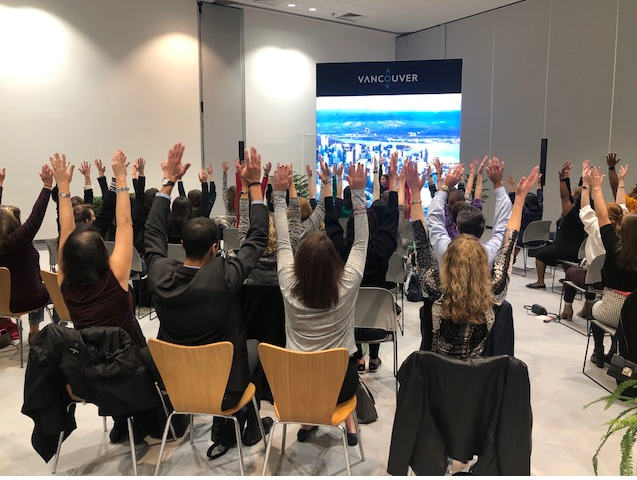 Delegates were eager to forget about the busy world outside the lounge barriers and immerse themselves in healing sessions that promoted clear minds and energy flow. Several returned for subsequent sessions – in fact, the space was often at maximum capacity, and additional chairs had to be added to accommodate the influx of eager visitors. The Vancouver Mindfulness Lounge was a resounding success, and all it took was a few chairs and an invitation to attendees to treat themselves to a meaningful break.
Grateful for my personal guided meditation this morning and meeting the team. Thank you. #PCMACL https://t.co/ACF3coBDAR

— Jaime Theresa Smith (@jaimetheresa) January 8, 2020
Inspired to incorporate Vancouver-style health and wellness into your next conference? Contact Tourism Vancouver's Meetings team to learn how. Namaste!