Joe Martin, partner at Los Angeles-based event management company BDI events, makes it a priority to travel to Vancouver a few times a year – preferably once per season. His love for the city has fostered a longstanding relationship with Tourism Vancouver, and a desire to share the best of Vancouver with his colleagues and friends.
Since 2011, Joe has worked closely with the tourism bureau to bring multiple client events to Vancouver. "Tourism Vancouver is the reason I fell in love with the city," he explains. "Throughout the years, we've collaborated on everything from a business and leadership conference to a dance convention, to a global tech association meeting. Plus, I brought 35 people to Vancouver on a 'fam' trip for my 30th birthday!"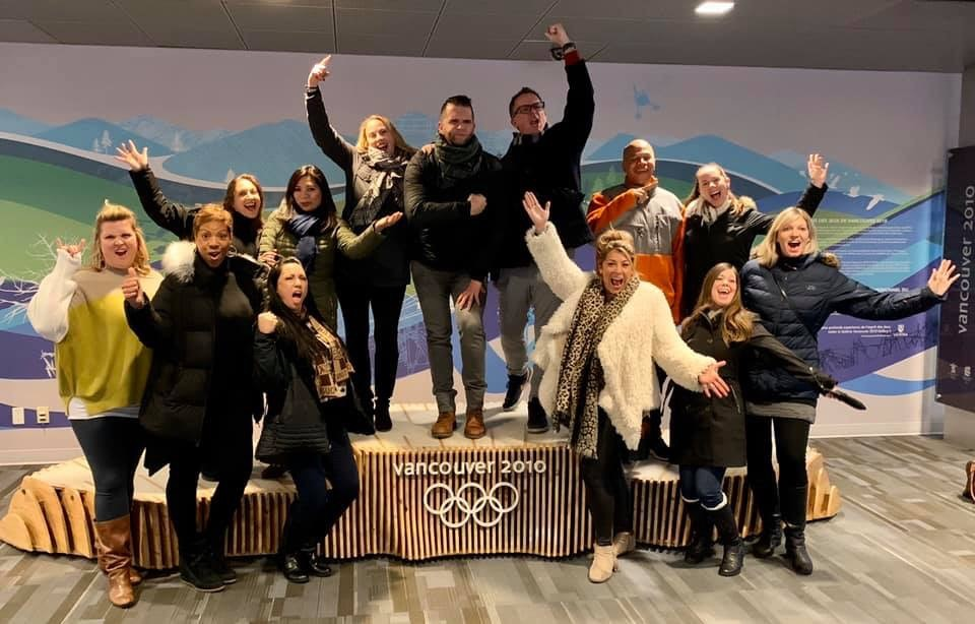 MPI Southern California board celebrating Vancouver's 2010 Olympic legacy.
As president of MPI's Southern California chapter, Joe played a key role in bringing the organization's annual board retreat to Vancouver in January 2020. "Everyone knows how much I love Vancouver, and I was determined to find a way to bring the whole board to the city during my term," he says. Again, Joe called on Tourism Vancouver, as well as venue partner the Sheraton Wall Centre, to bring his dream to life. The event was a resounding success with attendees enjoying a rare Vancouver snowstorm, indulging in a cozy lunch at The Teahouse in Stanley Park, skating and exploring the "North Pole" at Grouse Mountain.
Despite travelling frequently for work and pleasure, Joe pledges loyalty to Vancouver as one of his favourite global destinations. "Vancouver offers the perfect balance of an urban and accessible city combed with leisure and nature," he says. "It's a worldwide hub and very accessible, and once you arrive it's easy getting around. Vancouver is also one of the friendliest cities I've ever been to – everyone I've met there is proud of their city, and eager to help visitors maximize the in-destination experience."
Joe's Vancouver bucket list is extensive, though he's narrowed down the list for first-time and seasoned visitors. Whether you're a delegate, event planner or leisure visitor, Joe's suggestions – shared in his own words – will give you a taste of the city's varied personality: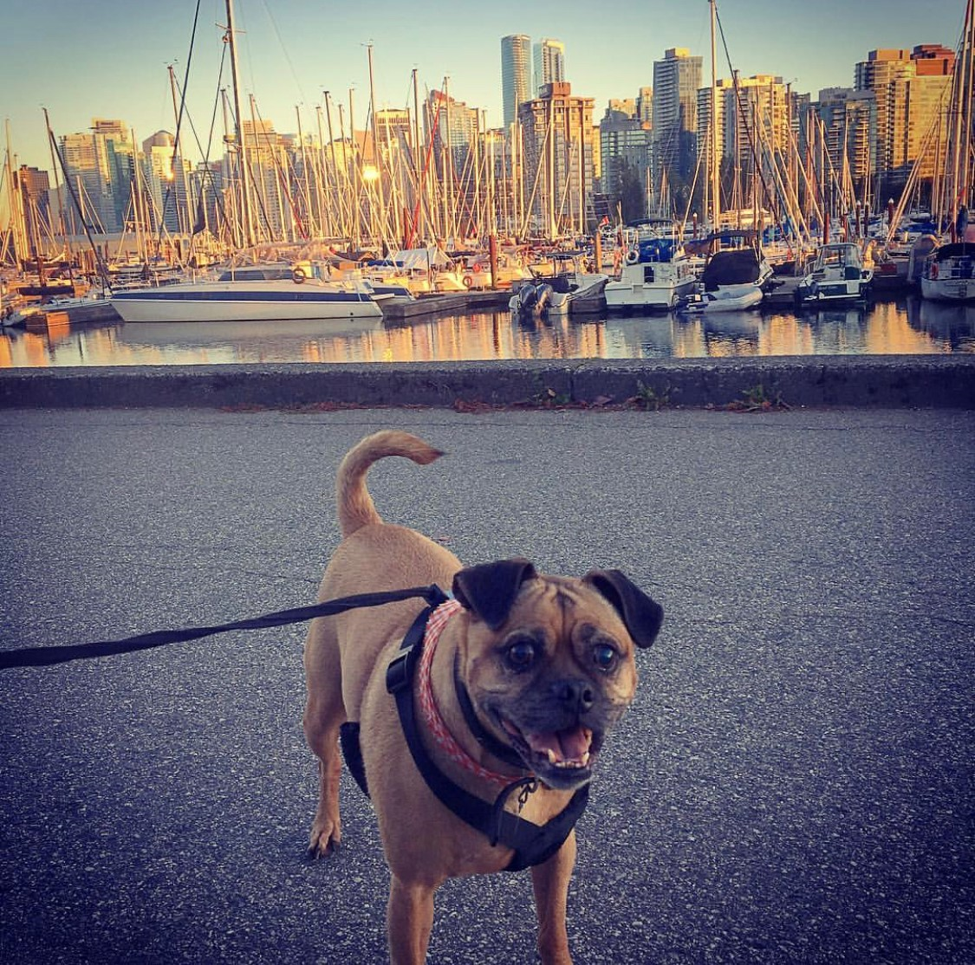 Joe Martin's puppy enjoys a walk along the Stanley Park seawall.
Explore Stanley Park. Preferably biking around the seawall! You can't beat it, and it's definitely a must-do – in fact, I've happily biked in the park in freezing rain.
Check out the bars in Davie Village. Particularly Junction and The Score on Davie.
Visit Fritz for tasty poutine. More than once, if time allows.
Brunch at Cactus Club in Coal Harbour. Score seats by the floor-to-ceiling windows for stunning views of the harbour. The restaurant is conveniently situated at Jack Poole Plaza beside the Vancouver Convention Centre, so you won't need to travel far from your meetings!
Soar above the city in a floatplane. This is one of the most memorable experiences I've ever had in Vancouver – it's a gorgeous way to see the city.
Experience the amazing food in Yaletown. This neighbourhood has incredible restaurants, cafés and bars, and is a great place to stroll in the evenings!
Wander Gastown at night. I recommend stopping at breweries like Steamworks during your meanderings, and ending with a casual dinner at The Flying Pig.
Play at Grouse Mountain, the Peak of Vancouver. Grouse Mountain is one of Vancouver's most-visited attractions, and for good reason – there's so much to see and do here, no matter what time of year you visit.
Catch a Vancouver Canucks game. And, if you can't get tickets to watch rinkside at Rogers Arena, settle in at the nearby Shark Club to catch the game on the big screen.
To learn how to replicate Joe's showstopping events in Vancouver, contact Tourism Vancouver's Meetings team.