Here's an out-of-the-box strategy for increasing attendance at your next meeting: appeal to the film buffs! Whether your delegates are romance addicts, superhero fans or dedicated Netflix bingers, they'll surely recognize Vancouver's striking backdrops from the big and small screens. The city's sprawling parks, ocean-hugging seawall and distinctive neighbourhoods are recognizable in countless productions, including blockbusters like both Deadpool  movies and the Fifty Shades of Grey trilogy – and the hotels are no exception. Get ready to dazzle your delegates with a Hollywood North hotel stay – here are five to get you started: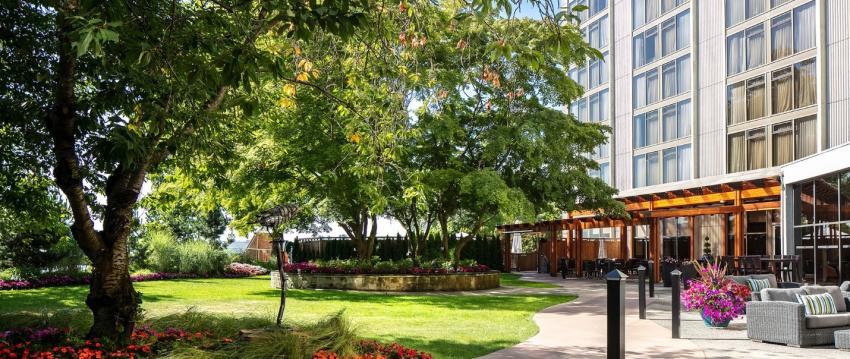 Courtesy PacificGateway.com
Pacific Gateway Hotel  Conveniently situated close to Vancouver International Airport – regularly named North America's best airport, and recognizable from productions like Supernatural, Fantastic Four: Rise of the Silver Surfer and Final Destination – Pacific Gateway Hotel features picture-perfect views of the Coast Mountains and Fraser River, along whose shores the property sits, as well as more than 20 fully-equipped venues capable of hosting up to 600 visitors. Requests for specific displays, exhibits or out-of-the-box configurations are welcome. The hotel has stood in for international venues such as Seattle Memorial Hospital, and guests were treated to views of a helicopter landing in the parking lot for crime show The Crossing. You'll also glimpse Pacific Gateway in Timeless, iZombie and Travelers.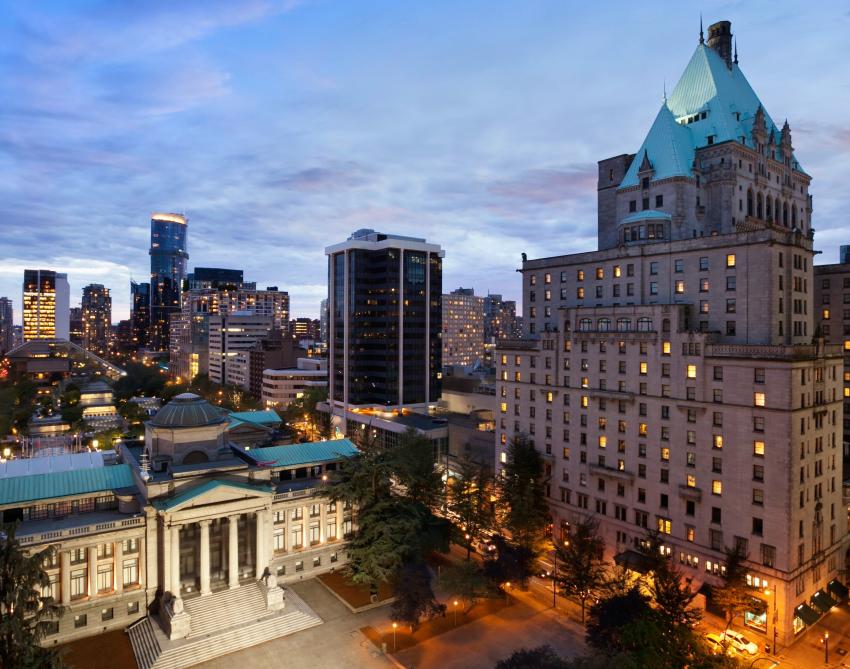 Courtesy Fairmont Hotel Vancouver
The Fairmont Hotel Vancouver  The Fairmont is practically synonymous with Fifty Shades of Grey, having received a steamy profile in the hot-to-trot trilogy. Super-fan delegates can book the luxe Lieutenant-Governor's Suite, whose cozy interior hosted Christian and Ana's swoon-worthy tryst; or, planners can surprise VIP attendees with the Mr. Grey Package, which includes accommodation in the suite along with a custom Chantilly eye mask, bottle of Dom Perignon, chocolate dipped-strawberries, private shopping experience at Christine Lingerie and BMW car transfers. With the property's ability to host up to 1,000 guests in dedicated boardrooms, magnificent ballrooms and hospitality suites – complete with customized catering and world-leading audiovisual support – it's safe to say meeting planners have found their perfect match!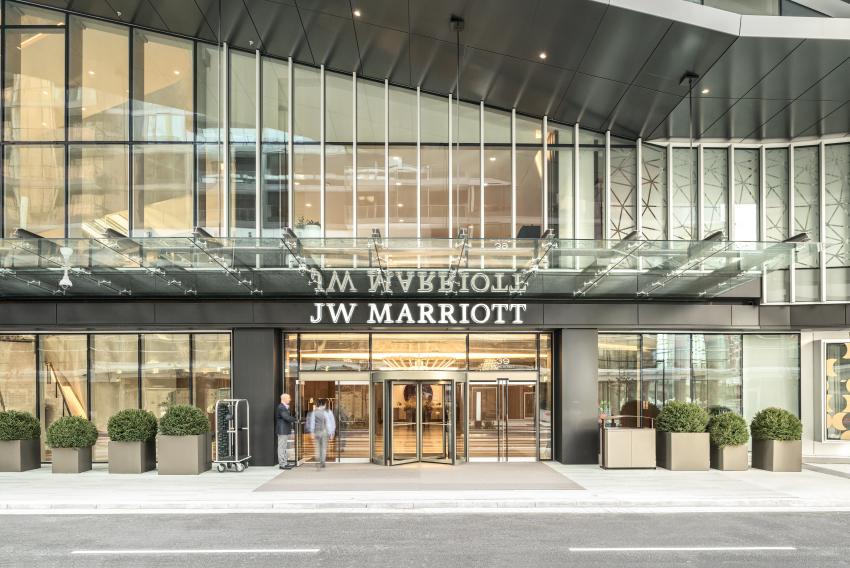 Courtesy JW Marriott Parq Vancouver
JW Marriott Parq Vancouver  Part of luxury entertainment resort Parq Vancouver, the JW Marriott is a sleek waterfront property with plenty of on-screen sex appeal (case in point: the hotel was featured in Needle in a Timestack, starring Orlando Bloom and Freida Pinto). Delegates here enjoy more than 60,000 square feet of immaculate indoor and outdoor meeting space – including a sprawling outdoor park situated on the sixth floor – enhanced by personalized experiences dreamed up by dedicated event staff. At day's end, meeting attendees can retire to their expansive guestrooms, which showcase stunning views of the city skyline, Pacific Ocean and Coast Mountains; after a brief sojourn, attendees can gather at one of nine destination restaurants or the expansive casino.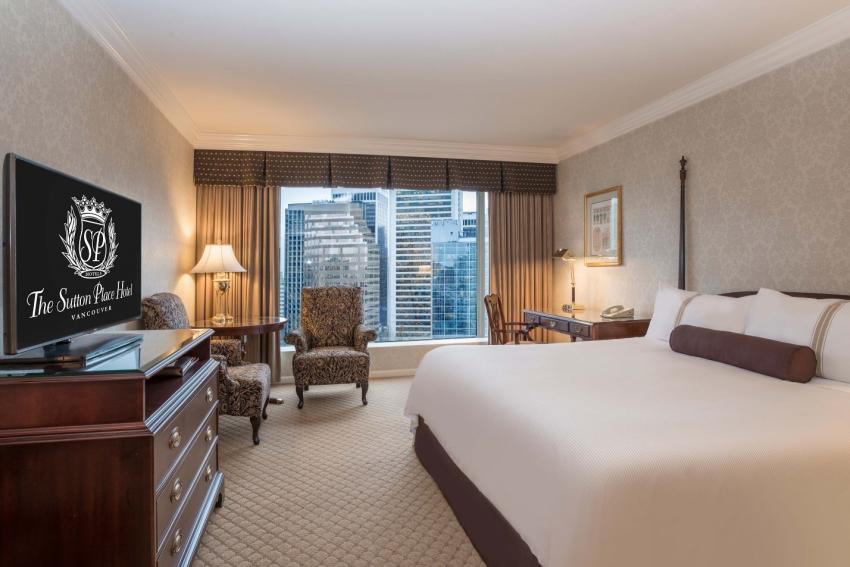 Courtesy Suttonplace.com
The Sutton Place Hotel  What delegate doesn't enjoy a thrilling celebrity sighting? One of your best bets for catching a glimpse of Hollywood royalty is The Sutton Place, frequented by such red-carpet stars as Robert Pattinson, Ben Affleck and Anna Faris (you might also recognize the hotel from the recent reboot of The X-Files). Planners will adore the immaculate boardroom spaces designed to invite natural light, as well as the use of forward-thinking technology to ensure every meeting runs its smoothest.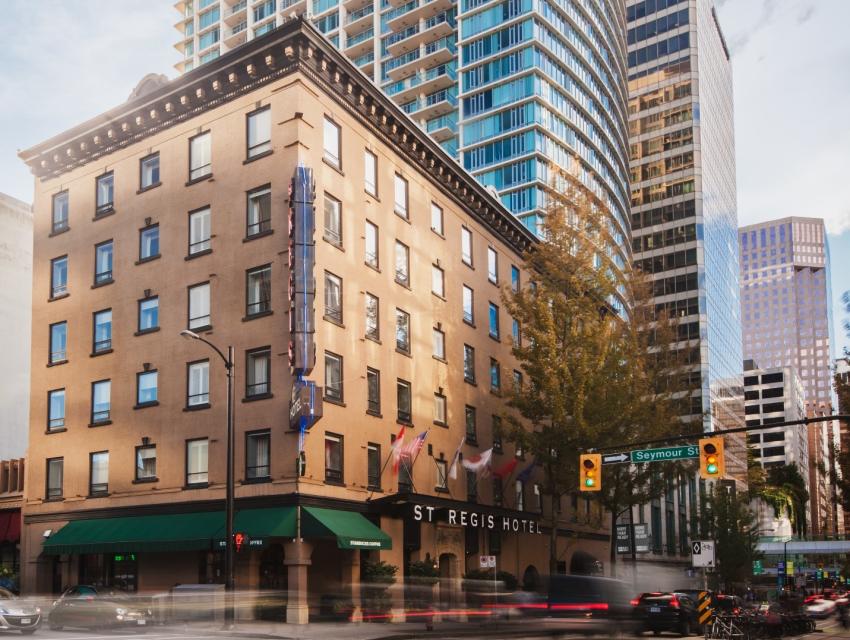 Courtesy The St. Regis Hotel
The St. Regis Hotel  Nestled in the centre of the action in downtown Vancouver, this boutique property is an excellent choice for delegates, particularly with complimentary breakfast and daily passes to the nearby gym fuelling long days in the boardroom. Visitors may recognize the stylish lobby from sassy law drama Suits, and exterior shots from episodes of The Flash. The hotel is best suited to small- and medium-sized groups with intimate, multifunctional spaces that transition seamlessly from boardroom to night on the town.
If delegates desire even more Hollywood North, they can access a self-guided itinerary of their favourite production and explore the city from an on-screen perspective. That's a wrap!