Winter in Vancouver is truly spectacular: mild temperatures so you can bundle up and explore on foot, and an easy 20-minute drive to the winter wonderlands of snow-capped mountains. Winter ushers in a treasure trove of seasonal activities, celebratory festivals and hockey galore. Keep reading to learn how to make the most of your winter travels in Vancouver.
Should I expect a climate similar to the rest of Canada? Let's take this opportunity to dispel a commonly held misconception. Canada is a BIG country – the second biggest country in the world, in fact. British Columbia, where Vancouver is situated, boasts a land mass greater than the entirety of New Zealand. That's a lot of space, and climates range from desert-like to frozen tundra. On the southern coast, where Vancouver is located, the temperature remains relatively mild year-round, rarely dipping below freezing. Typically, the daytime forecast hovers between 5°C and 10°C during the day (fun fact: Vancouver is known for being a rare city where you can sail, golf and ski in the same day). If you're planning to spend time at the local mountains, expect snowy conditions and temperatures much colder than downtown.
How should I dress? Bring lots of layers to prepare for varying weather conditions. Rain jackets and umbrellas are necessary, as downtown Vancouver sees more rain than snow in the winter. If you're visiting the mountains or planning a trip to nearby Whistler, pack the usual suspects: ski gear, warm clothing, gloves, scarf and hat.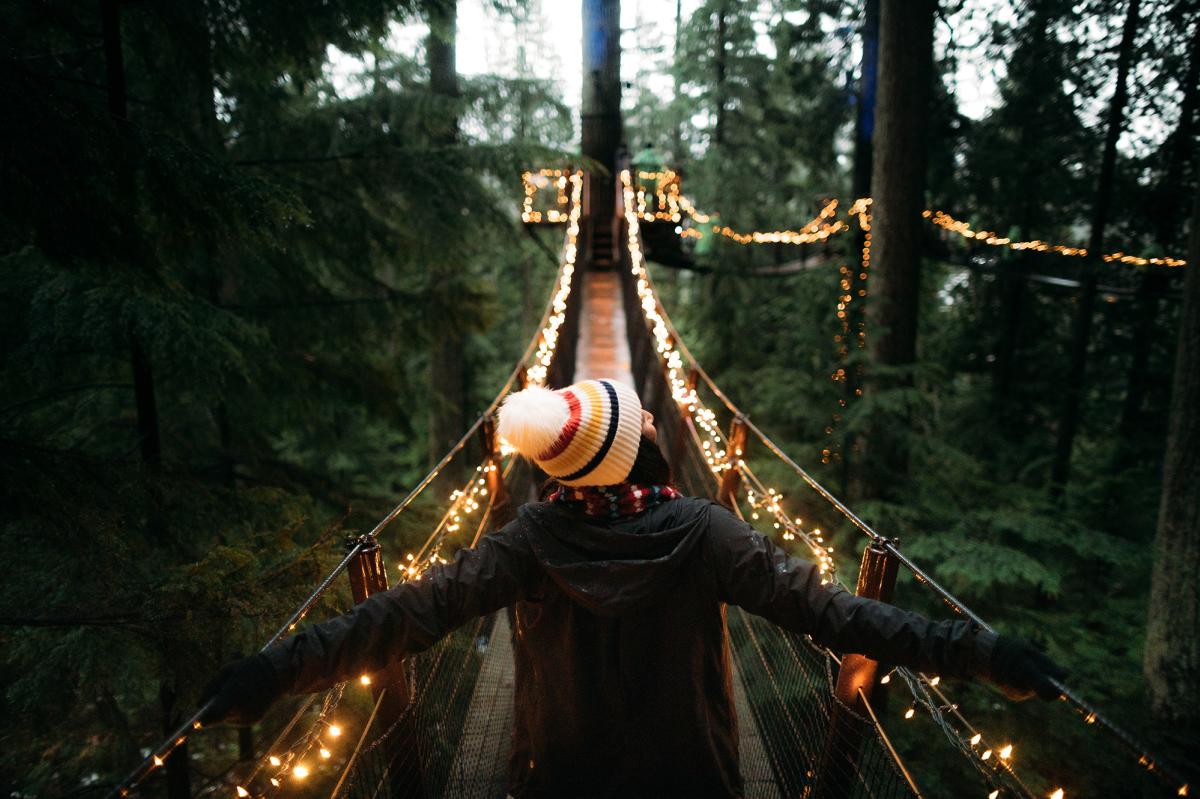 What local events take place in winter? Get ready for glitzy light displays, seasonally inspired theatre performances and culinary events that will nourish your body and soul! Catch the free shuttle to Capilano Suspension Bridge Park to see Canyon Lights (November 22 – January 26), an epic display featuring hundreds of thousands of lights twinkling from the bridge and rainforest; the attraction is also home to eight Douglas Firs that hold distinction as the tallest Christmas trees in the world. Delegates in town towards the end of January are in for a treat with Dine Out Vancouver Festival (January 17 – February 2) casting its culinary spell across the city; attractions include more than 300 restaurants offering prix fixe menus, special hotel rates and inventive food-themed events. Oenophiles won't want to miss Vancouver International Wine Festival (February 22 – March 1), which celebrates all things vino with glamorous events, informative seminars and the flagship International Festival Tasting where delegates can sample more than 750 wines. Meeting attendees with a thirst for arts and culture can choose from an array of performances ranging from Arts Club Theatre's The Sound of Music (November 7 to January 5) to JFL Northwest comedy festival (February 12-24).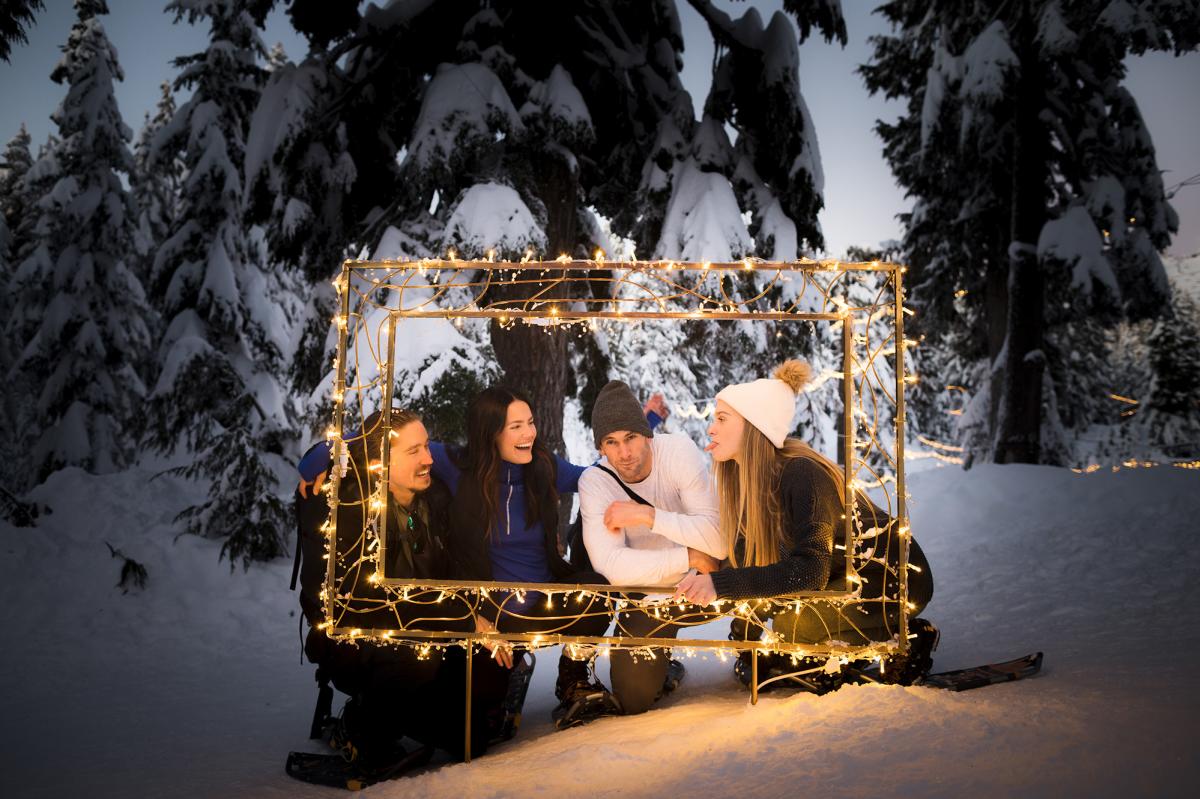 Suggestions for post-meeting and teambuilding activities? Throughout winter, Grouse Mountain offers invigorating adventures like skiing, snowboarding and snowshoe-and-fondue; for a truly breathtaking end to a day of meetings, check out the Light Walk, whose entrance is a glowing light tunnel next to the skating pond. Alternatively, delegates can take a tour through Stanley Park, paying a visit to the oh-so-adorable animals at the Vancouver Aquarium (renowned for its marine stewardship, rehabilitation and research programs) before sampling local craft beers in the cozy Stanley Park Pavilion. Rainy days are a good opportunity to check out FlyOver Canada at Canada Place Plaza, an enthralling 4D experience that takes you on an aerial journey across the country. Planners can also organize tours at the acclaimed Vancouver Art Gallery or the stunningly aesthetic Museum of Anthropology at the University of British Columbia.
What about delegates who are sports fans? Hockey season is alive and thriving in winter, and that means you're certain to rub elbows with diehard fans cheering on the Vancouver Canucks at sports bars across the city (we like the exhilarating atmospheres at Shark Club, The Charles Bar and The Blackbird). A great incentive group option is booking an arena experience at Rogers Arena, where delegates can watch the game from the comfort of box seats.
What's the best place to find souvenirs? Whether shopping for family and friends back home or treating yourself to a memorable memento, Vancouver's shopping scene offers options for everyone. Downtown is home to Pacific Centre mall, home to massive department stores Holt Renfrew and Nordstrom; as well as Robson Street, where you'll find popular North American brands mingling with sporting goods and athleisure wear (we recommend Vancouver-born Arc'teryx and lululemon), homeware, beauty and wellness, and ultra-luxe goodies like Tiffany's and Coach (at Burrard and Alberni streets). Gastown is filled with souvenir shops and First Nations galleries, and Yaletown and South Main are both good bets to find locally made designs and vintage goodies.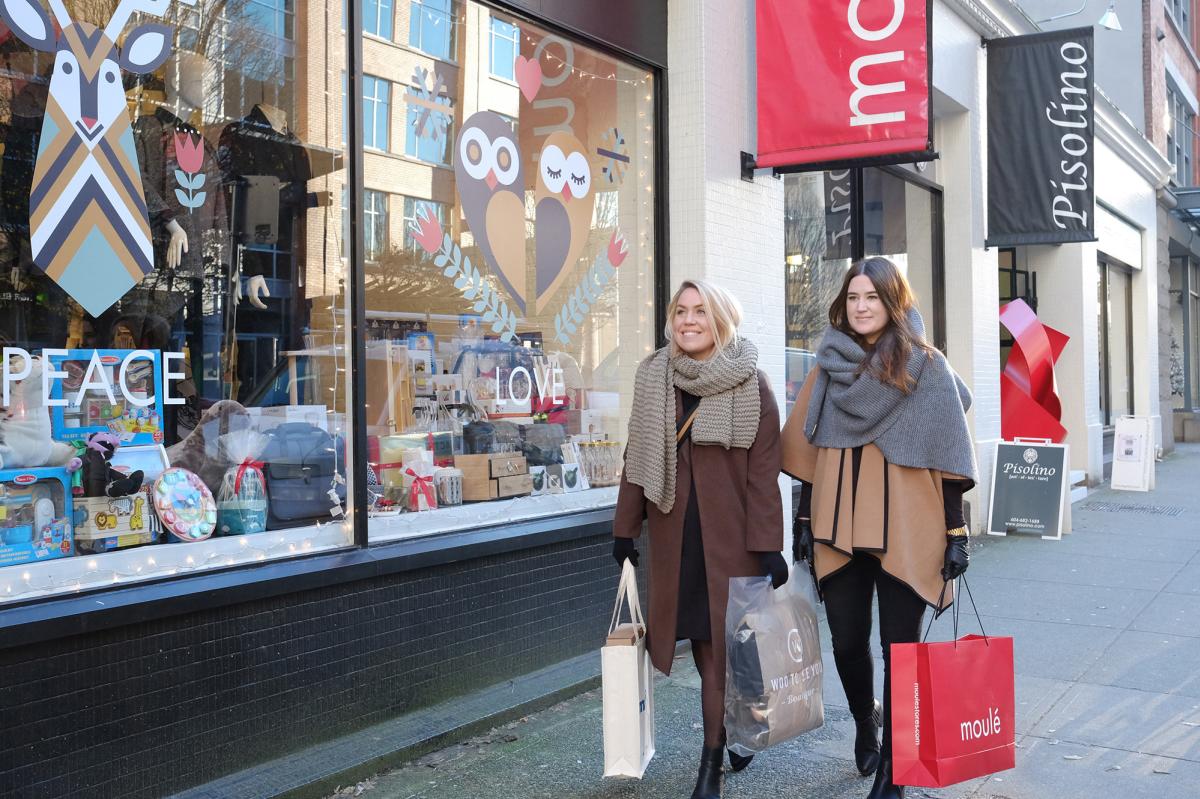 Where should I go if I want to extend my trip in BC? Vancouver is the perfect home base for regional exploring. Just two hours' drive from the city is Whistler, a world-class ski resort where delegates can hit the slopes or indulge in memorable experiences like the seasonal Vallea Lumina (running through April). Victoria is a heady blend of old-world charm and spunky modernity; delegates can reach BC's capital city via four-hour bus and ferry journey, or scenic 35-minute float plane ride from harbour to harbour.
To learn more about winter meetings in Vancouver, click here. To book your Vancouver meeting, contact Tourism Vancouver's Meetings & Conventions team. See you in the city!