Olivia Casano had no idea what to expect when she travelled to Vancouver in early July to compete at the 2019 North American Irish Dance Championships (NAIDC). In the weeks leading up to the event, she prepared for her first-ever trip to Vancouver by watching tourist videos on YouTube and jotting down ideas for activities and attractions she could enjoy with her mom; she also sought inspiration from the NAIDC logo, whose killer whale motivated her to book a whale watching tour.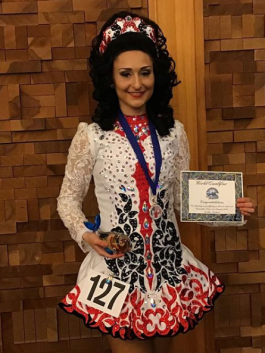 Olivia was one of approximately 12,000 dancers and their families, adjudicators, musicians, vendors and teachers attending the 50th annual NAIDC, hosted by the Western Canada Irish Dance Teachers' Association (WCIDTA). One of the world's premier Irish dance championships, NAIDC features day-long competitions in a number of categories, culminating in nightly awards ceremonies. Competitors like Olivia were so impressed by the destination that many stated the Vancouver competition was the best NAIDC to date.
"I was blown away by how nice everyone was in Vancouver," says Olivia. "My mom and I stayed at the Marriott Pinnacle, and the staff was the best of any Marriott I've visited. We travel so much for dance competitions, and our stay in Vancouver was the best!"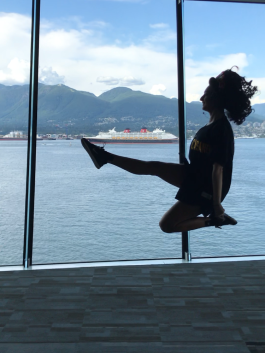 Olivia also marvelled at the Vancouver Convention Centre, particularly the security measures and level of safety she felt throughout the competition. She was equally awed by the venue's sprawling 466,500 square feet, including floor-to-ceiling windows that delivered showstopping scenery as a background for the competitors.  
"The day I competed, there was a Disney cruise ship docked right next to the ballroom window," Olivia reminisces. "Watching the boat sail away with the mountains in the background made me appreciate how truly beautiful Vancouver is."
When she wasn't competing, Olivia seized as many opportunities as she could to tour the city. She and her mom ascended the Vancouver Lookout and snapped photos of the 360˚ view, shopped at gourmet grocer Urban Fare, and embarked on a whale watching tour. "One day, we walked to Spokes Bicycle Rentals and had the best bike ride around Stanley Park," Olivia shares. "That was one of the trip highlights – the scenery was breathtaking."
But the surprises weren't over for Olivia. The dancer was also a lucky recipient of Tourism Vancouver's Social Concierge program, run by a dedicated onsite team who monitor social media conversations and pounce on opportunities to delight unassuming attendees with customized gifts and tickets to local attractions. An avid Disney fan, Olivia returned to her hotel room one day to find a Disney notebook, paired with Vancouver swag. Other NAIDC attendees received tickets to the city's Bard on the Beach Shakespeare Festival, gear from iconic apparel brand Roots Canada and a city tour.

The professionalism and warmth shown by staff at the Vancouver Convention Centre and Tourism Vancouver, combined with Vancouver's natural surroundings and engaging attractions, won over many NAIDC attendees. Social media posts throughout and after the competition overwhelmingly shared attendees' views of Vancouver as a welcoming host city with inspiring views and lots to explore.
"I would absolutely plan another visit to Vancouver," says Olivia. "I'm determined to save enough money one day to be able to return and board a cruise ship there!"
Ready to win over your meeting delegates? Contact Tourism Vancouver's Meetings team to get started.
*Note that all images, except header, are from Olivia's Instagram account (@oliviacasano)