Credit: Tourism Vancouver
Vancouver hosted the citywide convention, College of Family Physicians of Canada's 2019 Family Medicine Forum from October 31 – November 2, 2019. This is the forum's fourth time at the Vancouver Convention Centre and is confirmed to return for it's fifth in 2022. This year's convention was estimated to have approximately 4000 attendees, with over 3600 of them being from out of town.
The conference features daily keynote presentations and professional development (CPD) sessions designed for family physicians, researchers, and teachers. In support of the conference's Wellness Lounge, Tourism Vancouver partnered with Pacific Assistance Dogs Society (PADS) to offer a memorable attendee experience that was aligned with CFPC's values: Caring, Learning, Collaboration, Responsiveness, Respect, Integrity, and Commitment to Excellence. This partnership reinforced the values and commitment both CFPC and Tourism Vancouver hold.
For the activation, Tourism Vancouver recreated a 10'X10' indoor dog park that gave the attendees the opportunity to lounge with the company of PAD's in-training therapy dogs throughout the conference. The companionship, amusement, and puppy dog eyes drew in delegates each day instilling in them pure happiness and relaxation.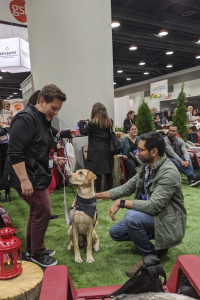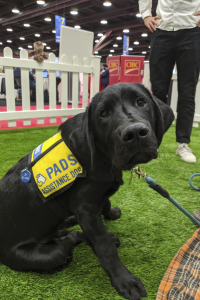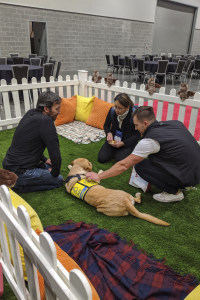 The PADS Wellness Lounge is a key example of how Tourism Vancouver can easily adapt and work with planners who are looking for unique Vancouver ideas to activate initiatives that align with their organization or to further enhance the attendee experience. This activation speaks to the brand and reputation of Vancouver in the marketplace and how the destination continues to entice visitors and meeting influencers.
To learn more about how Tourism Vancouver can contribute to your meeting or convention, click here.
To learn more about Tourism Vancouver's Mind Partnership, click here.
About Family Medicine Forum:
Family Medicine Forum (FMF) is Canada's largest and most comprehensive annual conference for family physicians and is hosted by the College of Family Physicians of Canada (CFPC). CFPC represents more than 38,000 members across the country and is the professional organization responsible for establishing standards for the training, certification, and lifelong education of family physicians.