Experience More
All you need is a passport for a bigger, better, chiller, North-ER travel experience. All chiller, no filler is a way of life on the Canadian West Coast, giving you more in every way you can imagine. Discover more connection with the great outdoors, only a short flight away from one the world's richest natural environments. Find more cultural experiences, from global cuisine to local arts and music. Let yourself lean into more luxury and relaxation, and experience the vibe of the West Coast. More in every way, including a wallet-friendly exchange rate, meaning your dollar goes further up here.
Go North-ER.
Because sometimes, more is more.
It's time to go Norther
The Pacific Northwest isn't just a place. It's a state of mind. It's where the vistas stretch far out, where every breath renews, and where every single day is filled with anticipation. And out of all the places in the PNW, Vancouver is where you get more of it all. More Pacific-ER. More North-ER. More West-ER. The real Pacific Northwest is in Vancouver.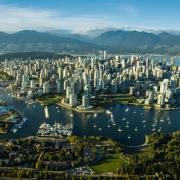 X
Want the inside scoop? Sign up for our newsletter!
Upcoming events, places to visit, great travel deals, and a lot more.
Sign Up