Destination Vancouver COVID-19 Information and Resources for Travellers
Last reviewed: December 2, 2021
British Columbia is currently in Step 3 of the BC Restart Plan and we are excited to welcome visitors to #LoveVancouver. Recreational travel within BC is now permitted. For more information about the Province's current travel advisory, please visit the Government of British Columbia's website.
Current Updates:
The Government of Canada has implemented additional measures to address the COVID-19 Omicron variant including changes to entry, testing and quarantine requirements. As more details become available, updates will be shared on the Government of Canada website.
The Canada-U.S. border has re-opened to fully vaccinated U.S. visitors as of August 9, 2021.
Effective September 7, 2021, Canada's borders are opened to fully vaccinated visitors from any country who meet entry requirements. For more details and to find out if you can enter Canada, visit the Government of Canada's website.
Travellers from across Canada, and international visitors planning ahead, can find trip inspiration and a list of what is currently open for business in the city at #LoveVancouver.
Beginning September 13, 2021, all residents and visitors will be required to provide proof of vaccination to access discretionary services in British Columbia. For more details, visit the Government of British Columbia's website.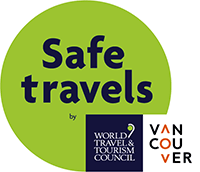 Destination Vancouver has received the World Travel and Tourism Council (WTTC) Safe Travels Stamp, which allows travelers to pinpoint global destinations where they can experience "safe travels".
Destination Vancouver has been awarded a Safe Travels Stamp by the World Travel & Tourism Council ("WTTC"). This stamp is the world's first ever global safety and hygiene stamp for the travel and tourism industry, and signals to the public that a destination is safe to visit. 
The Safe Travels stamp has been endorsed by over 200 tourism groups, including the United Nations World Tourism organization (UNWTO). 
Destination Vancouver along with our partners in Metro Vancouver will continue to collaborate to ensure visitors feel safe in our destination. As a designated public destination authority, Destination Vancouver will act as a Safe Travels ambassador to our tourism stakeholders and help them achieve their Safe Travels stamp.
Look out for the stamp on our Member's listings on the Destination Vancouver website.

For the most accurate and up-to-date information on the COVID-19 situation, please visit PHAC's website. They continue to reassess the public health risk, based on the best available information as the situation evolves.
For non-medical information about COVID-19, such as travel recommendations and physical distancing please call the provincial government launched hotline: 1-888-COVID19 or 1-888-268-4319 (open from 7:30 am to 8:00 pm)
If you or someone you know is experiencing possible COVID-19 symptoms, call the provincial health information hotline at 8-1-1, or contact the B.C Centre for Disease Control at 1-833-784-4397.
You can also conduct an initial self-diagnosis at the provincial government's HealthLinkBC page: https://www.healthlinkbc.ca/health-topics/hwsxchk
For more information about travel within British Columbia, visit Destination British Columbia's Know Before You Go.
 
Destination Vancouver Visitor Centre
The Destination Vancouver Visitor Centre located at 200 Burrard Street is closed. You can still get in touch with us by phone or email for help at: 604-683-2000 or VisitVancouver@destinationvancouver.com, or using live chat (Monday – Friday 9:00am – 12:00pm PST)
 
Meetings & Conventions
BC Meetings and Events Industry Working Group website
Additional Resources
Health Link BC's website
Vancouver Coastal Health
Government of Canada Travel COVID-19 Update
Vancouver Convention Centre COVID-19 Update
Port of Vancouver Cruise Schedule
B.C. Centre for Disease Control virus update
Where to get a COVID-19 test in BC