Destination Vancouver COVID-19 Information and Resources for Travellers
Last updated: September 26, 2022
On this page, you can find the latest updates to provincial health orders to help you plan your #VeryVancouver trip.
Current Updates:
Effective October 1, 2022, all travellers, regardless of citizenship, will no longer have to:
submit public health information through the ArriveCAN app or website;
provide proof of vaccination;
undergo pre- or on-arrival testing;
carry out COVID-19-related quarantine or isolation;
monitor and report if they develop signs or symptoms of COVID-19 upon arriving to Canada.
Transport Canada is also removing existing travel requirements.
As of October 1, 2022, travellers will no longer be required to:
undergo health checks for travel on air and rail; or
wear masks on planes and trains.
Associated Links:
COVID-19 Information Hotlines
For non-medical information about COVID-19, such as travel recommendations and physical distancing please call the provincial government launched hotline: 1-888-COVID19 or 1-888-268-4319 (open from 7:30 am to 8:00 pm)
If you or someone you know is experiencing possible COVID-19 symptoms, call the provincial health information hotline at 8-1-1, or contact the B.C Centre for Disease Control at 1-833-784-4397.
You can also conduct an initial self-diagnosis at the provincial government's HealthLinkBC page: https://www.healthlinkbc.ca/health-topics/hwsxchk
For more information about travel within British Columbia, visit Destination British Columbia's Know Before You Go.
 
Destination Vancouver Visitor Centre
The Destination Vancouver Visitor Centre located at 200 Burrard Street is closed. You can still get in touch with us by phone or email for help at: 604-683-2000 or VisitVancouver@destinationvancouver.com, or using live chat (Monday – Friday 9:00am – 12:00pm PST)
 
Meetings & Conventions
BC Meetings and Events Industry Working Group website

Additional Resources
Health Link BC's website
Vancouver Coastal Health
Government of Canada Travel COVID-19 Update
Vancouver Convention Centre COVID-19 Update
Port of Vancouver Cruise Schedule
B.C. Centre for Disease Control virus update
Where to get a COVID-19 test in BC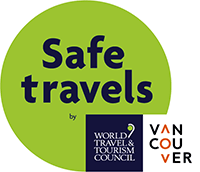 Destination Vancouver has received the World Travel and Tourism Council (WTTC) Safe Travels Stamp, which allows travelers to pinpoint global destinations where they can experience "safe travels".
Destination Vancouver has been awarded a Safe Travels Stamp by the World Travel & Tourism Council ("WTTC"). This stamp is the world's first ever global safety and hygiene stamp for the travel and tourism industry, and signals to the public that a destination is safe to visit. 
The Safe Travels stamp has been endorsed by over 200 tourism groups, including the United Nations World Tourism organization (UNWTO). 
Destination Vancouver along with our partners in Metro Vancouver will continue to collaborate to ensure visitors feel safe in our destination. As a designated public destination authority, Destination Vancouver will act as a Safe Travels ambassador to our tourism stakeholders and help them achieve their Safe Travels stamp.
Look out for the stamp on our Member's listings on the Destination Vancouver website.