Have you heard of forest bathing? It's a great way to relieve stress and improve your health by spending time in nature. With lots of wooded areas around the city, Vancouver is a great place to try forest bathing. Read on for first-time forest bather tips and our picks for the best places to try forest bathing around Vancouver.  
 
What is Forest Bathing?
Forest bathing is a form of nature therapy, developed in Japan in the 1980s. In Japanese, it is called shinrin-yoku. (Shinrin means "forest," and yoku means "bath.") To practice forest bathing, you spend time in nature, being mindful of what you see, hear, smell, and touch. This can include slow, meditative walking, or simply sitting in a serene spot. Scientific research shows that spending time forest bathing has tons of health benefits including lowered stress, increased mood, and reduced fatigue.
 
Tips for Forest Bathing
Turn off your phone and stow it in your pack to reduce distractions.
Walk slowly and stop often. Take your time.
Find a quiet place to sit or even lay down to relax and take it all in.
Focus on engaging your senses: Listen to the wind. Look at the beautiful scenery. Take slow, deep breaths and smell the fragrance of the forest. Gently touch the trees, leaves, and moss.
Check the forecast and dress for the weather. Bring warm clothes to keep you comfortable while sitting still.
Bring a backpack with essential safety and first aid gear, just in case.
Carry a copy of the park map to help orient yourself. It can be easy to get off track when you're meditating.
Leave a trip plan so someone knows where you are going and when you will be back.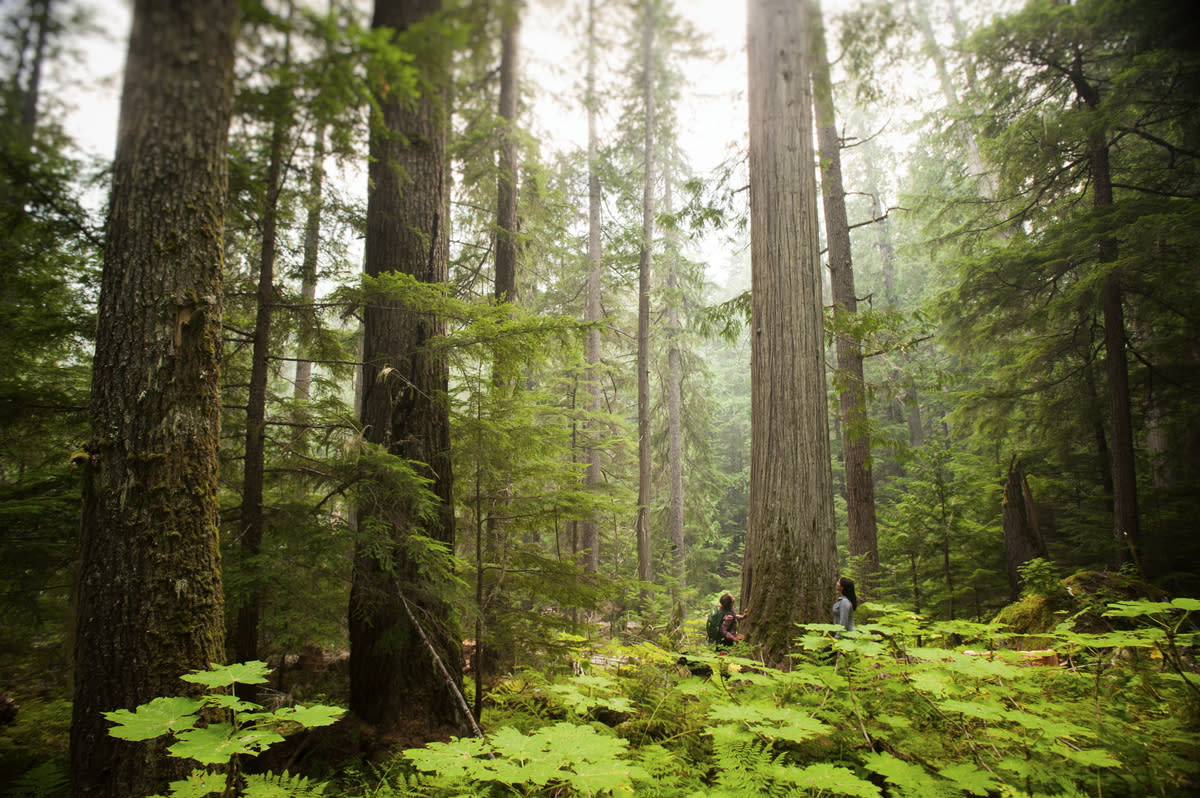 Photo: Destination BC / Dave Heath
 
Best Places to Go Forest Bathing Near Vancouver
You can practice forest bathing anywhere in nature. It could be as simple as heading to a grove of trees in your neighbourhood park. In Vancouver, you don't need to go far to find a spot for forest bathing with a wilderness feel. Here are 5 great places to try forest bathing around Vancouver:
Stanley Park, Vancouver
The forested interior of Stanley Park sees far less traffic than the seawall path. The quieter pedestrian-only trails like Meadow Trail, Tatlow Walk, and Lees Trail are a great place to connect with nature on a forest bathing walk. Bring the park map to stay on track.
Pacific Spirit Regional Park, Vancouver
This huge park near UBC has 55 kilometres of winding nature trails. There are lots of spots perfect for quiet reflection. We recommend the Sword Fern and Iron Knee Trails which meander through a less-travelled section of the park. Download the park map to find your way.
Lighthouse Park, West Vancouver
West Vancouver's Lighthouse Park has lots of forested trails and some beautiful old-growth trees. Head to the Arbutus and Valley of the Giants Trails on the east side of the park to connect with nature away from the busy lighthouse. Use the park map to orient yourself.
Rice Lake, North Vancouver
Tranquil Rice Lake in the Lower Seymour Conservation Reserve is an ideal place for forest bathing. A flat trail encircles the lake, but there are numerous spur trails leading to private spots on the shoreline. The park map can help you choose your route.  
Burnaby Mountain Conservation Area, Burnaby
Stroll meditatively through a lush forest in the heart of Burnaby. The trails of Burnaby Mountain Conservation Area are a great place for forest bathing. Try the undulating Mountain Air Trail on the north side of the park. This park map shows the way.