Each autumn, Vancouver's tree-lined streets explode into yellows, golds, and reds. Why not enjoy it by bike? There are plenty of great fall photo ops as you cruise along quiet bike paths. If the weather gets too chilly, stop for a pumpkin spice latte break.
Before you go cycling, make sure you get geared up. Under British Columbia law, you have to wear a helmet when you ride. Biking after dark? You need lights too. If you don't have one, it's easy to rent a bike. For fall's colder riding weather wear gloves and bundle up in layers.
 
UBC
The wide boulevards at UBC are a great spot for fall foliage. Many of the streets are closed to cars but open to bikes. For an extra-special dose of colour, park your bike and head into Nitobe Memorial Garden. There's a small entry fee, but the brilliant red colours of the Japanese maples are worth it.
 
False Creek Seawall
A fall bike ride along the False Creek Seawall provides lots of colouful photo opportunities. Be sure to slow down to enjoy the changing leaves at David Lam Park, along Marinaside Crescent in Yaletown, and on Granville Island.
 
Stanley Park
The Stanley Park seawall is Vancouver's most iconic bike route. In the fall, sections of the 10-kilometre loop light up with changing leaves. Key spots to stop include near the rowing club and along Lost Lagoon. Venture just outside the park to grab a photo of the vine-covered exterior of the Sylvia Hotel on Beach Avenue.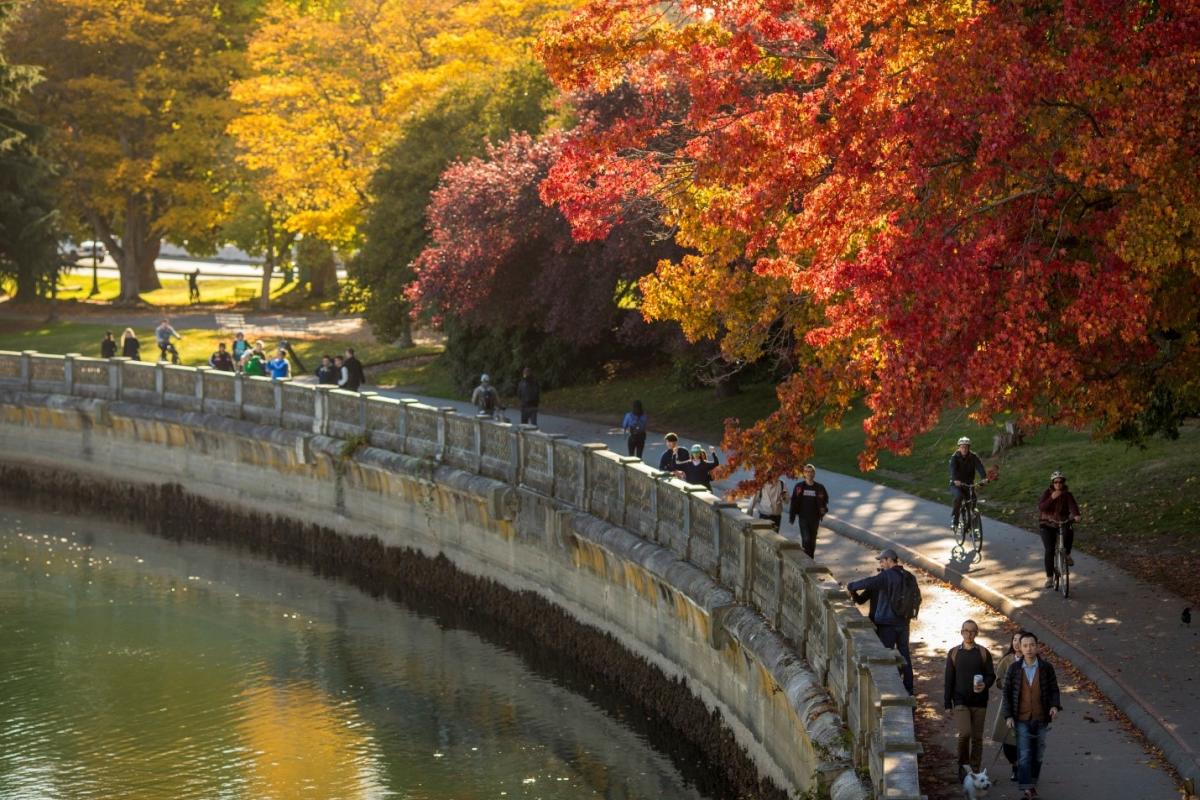 Stanley Park seawall with fall colours. Photo credit: Destination Vancouver / Nelson Mouellic
10th Avenue Bike Route
Most of the year, the 10th Avenue bike route is filled with urban commuters heading crosstown. But in the fall, the green canopy overhead turns yellow and gold. The best sections are by Kitsilano Secondary School at Trafalgar Street and on the east side between Main and Fraser.
 
Arbutus Greenway
Vancouver's newest off-street bike path is a great autumn destination. Many of the trees along the 9-kilometer route are spectacular in the fall. The tree-lined section of path south of 41st Avenue has the highest concentration of changing leaves.
 
Trout Lake
Make your way to Trout Lake in East Vancouver to enjoy some beautiful changing leaves. The BC Parkway bike path winds through the east side of the park. On a calm day, don't miss the firey red leaves reflected in the calm waters of the lake.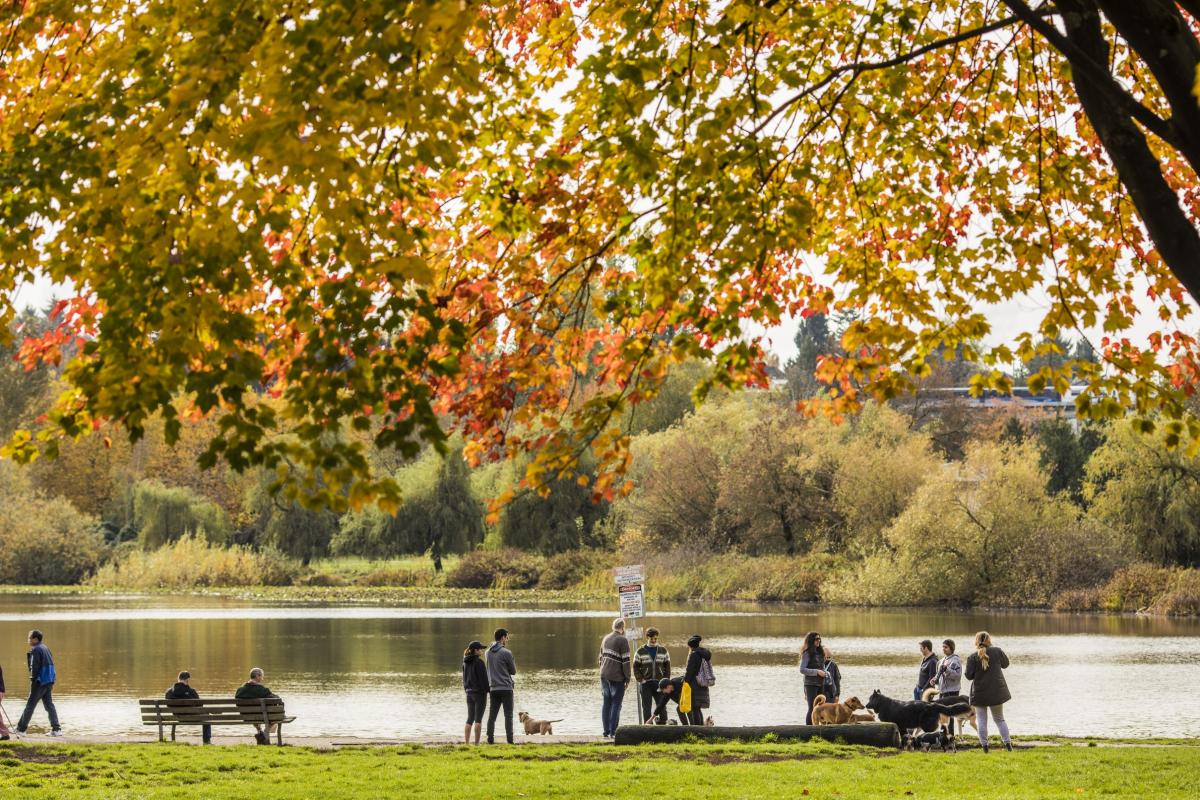 Fall colours at Trout Lake. Photo credit: Destination Vancouver / Nelson Mouellic
Coal Harbour Seawall
The paths along Coal Harbour are speckled with pockets of trees that transform each autumn. Key photo spots include Devonian Harbour Park, Marina Square, Cardero Park, and Harbour Green Park. Head up to Jack Pool Plaza for great shots of the trees from above.
 
Seaside Bike Route
For a great fall ride, follow the Seaside Bike route for 7 kilometres from Vanier Park to Spanish Banks. There are lots of great fall photo ops along the way. Favourite stops include the north end of Kits Beach and Jericho Beach Park. Be sure to take a few detours onto the surrounding side streets. Many of them have amazing colours too.