Get out into the snow with your dog this winter. It's a great way to get exercise for both you and your pup! Here are our picks for the best dog-friendly places to snowshoe near Vancouver, plus some tips to make sure you and your dog have fun and stay safe.
Tips for Snowshoeing with Dogs
Bring a leash. All of the trails on this list are on-leash zones.
Pack out poop to keep the environment clean and respect other trail users.
Start slow and go at your dog's pace. Walking in deep snow can be very tiring for dogs. Older and less fit dogs may not find snowshoeing fun.
Pack snacks and water for both you and your pup.
Check the forecast and pack extra clothing for both you and your dog. Be sure to bring lots of waterproof gear and warm layers. Consider bringing booties or paw wax to protect your dog's paws from ice and snow.
AdventureSmart recommends bringing a backpack with essential safety and first aid gear on every trip.
Leave a trip plan so someone knows where you are going and when you will be back.
Avalanches are common in our local mountains. Check the avalanche forecast before you go and consider taking an avalanche safety course or a free online tutorial.
Discovery Snowshoe Trails, Mount Seymour Resort
This network of dog-friendly trails at Mount Seymour Resort is great for beginners since the trails are flat and lots of loops are possible. Plan to spend between 1 and 3 hours snowshoeing here. This trail network is marked and maintained by Mount Seymour Resort, so you'll need to buy trail tickets online in advance. Use this trail map to plan your route.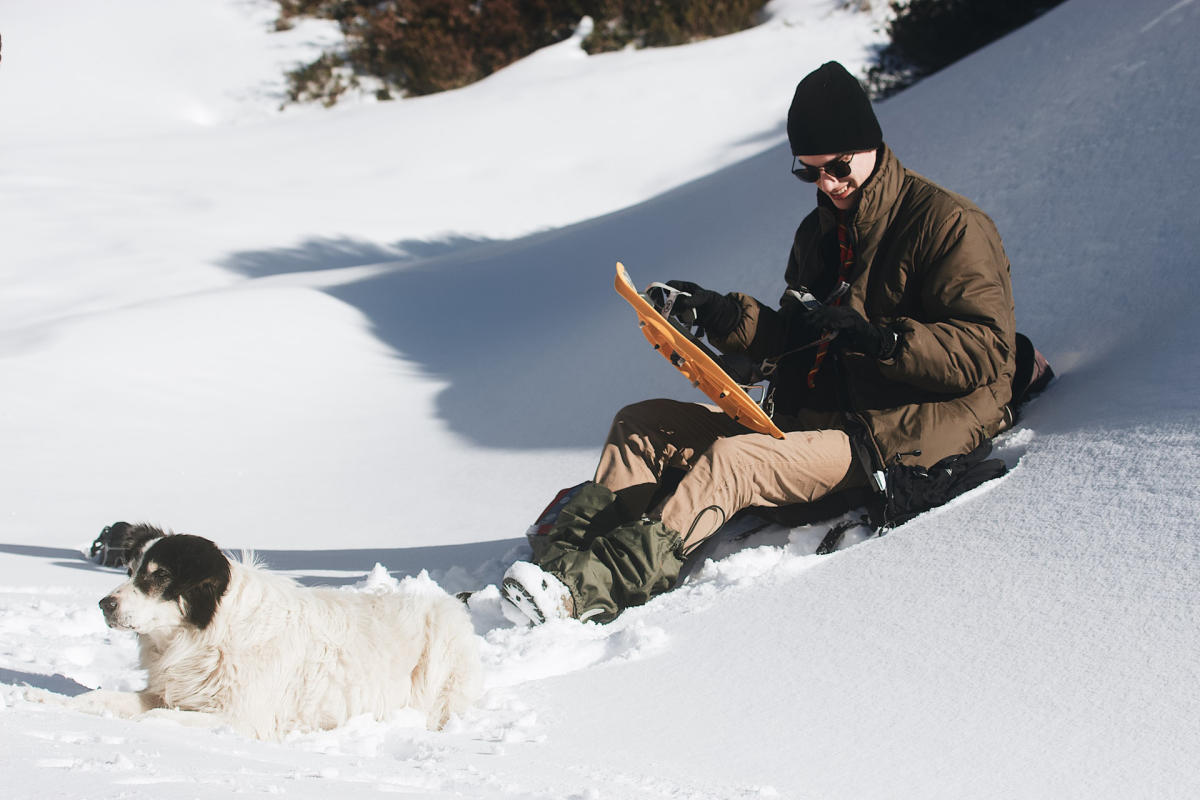 Photo: Mael Balland/Unsplash
Dog Mountain, Mount Seymour Provincial Park
Early hikers in Vancouver looked up at the profile of this mountain after a snowfall and thought it resembled a St. Bernard. But dogs of any breed will love this short and easy 2.5-hour trail, perfect for beginners. The trail is mostly flat as it winds through the forest, finishing at a great viewpoint over Vancouver.  Bring the trail map to stay on track.
Mount Seymour First Peak, Mount Seymour Provincial Park
The 5 hour hike to the top of Mount Seymour's First Peak is best for experienced snowshoers and dogs. The final third is a steep climb that can be very slippery so be careful on days with ice or hard-packed snow. However, the panoramic views from the summit are worth the arduous hike. This trail guide will keep you on track.
Bowen Lookout, Cypress Provincial Park
There are two parts to this 1.5-hour snowshoe trip: The first part is a flat trail past Yew Lake. On the second part, you and your dog will climb steep switchbacks up to Bowen Lookout. Gaze down from this spectacular viewpoint to Bowen Island and Howe Sound. This trail map shows the way. Before you start, you'll need to pick up a free backcountry access pass at the Black Mountain Lodge near the ski area.
Black Mountain, Cypress Provincial Park
This challenging 2.5-hour snowshoe trail climbs steeply up the side of Black Mountain beside the ski runs at Cypress Mountain Resort. At the top, follow a loop route past several lakes or take a break on the broad summit. Grab a free backcountry access pass at the Black Mountain Lodge near the ski area before setting out and use this trail map to stay on track.
Hollyburn Mountain, Cypress Provincial Park
You and your dog can summit Hollyburn Mountain and admire the views down to Vancouver from the top. The 5-hour snowshoe trip leaves from the Cypress Nordic Ski Area. The first few kilometres meander through the forest, but the final push to the summit is steep and strenuous.  Use this trail map to find your way.