Snowshoeing is a fun way to get outdoors in the winter. Many of the local snowshoe trails take you high into the mountains to lookout points where you can gaze down to the city or deep into the snow-covered wilderness. Here are our picks for the best snowshoe trails near Vancouver with incredible views.
Safety First
Dog Mountain, North Vancouver
This easy snowshoe trail at Mount Seymour is a good option for beginners. The route is mostly flat and takes 2 to 2.5 hours. The payoff at the end is a great viewpoint where you can look down towards Vancouver and Burrard Inlet. Bring the trail map to stay on track.
Bowen Lookout, West Vancouver
This 1.5 to 2-hour hike at Cypress Provincial Park starts out flat as it winds past Yew Lake. But you'll work up a sweat on the final steep climb to Bowen Lookout. There's a great view of Howe Sound, Bowen Island, and the Sunshine Coast. To hike this trail you'll need to pick up a free backcountry access pass at the Black Mountain Lodge near the ski area. This trail map shows the way.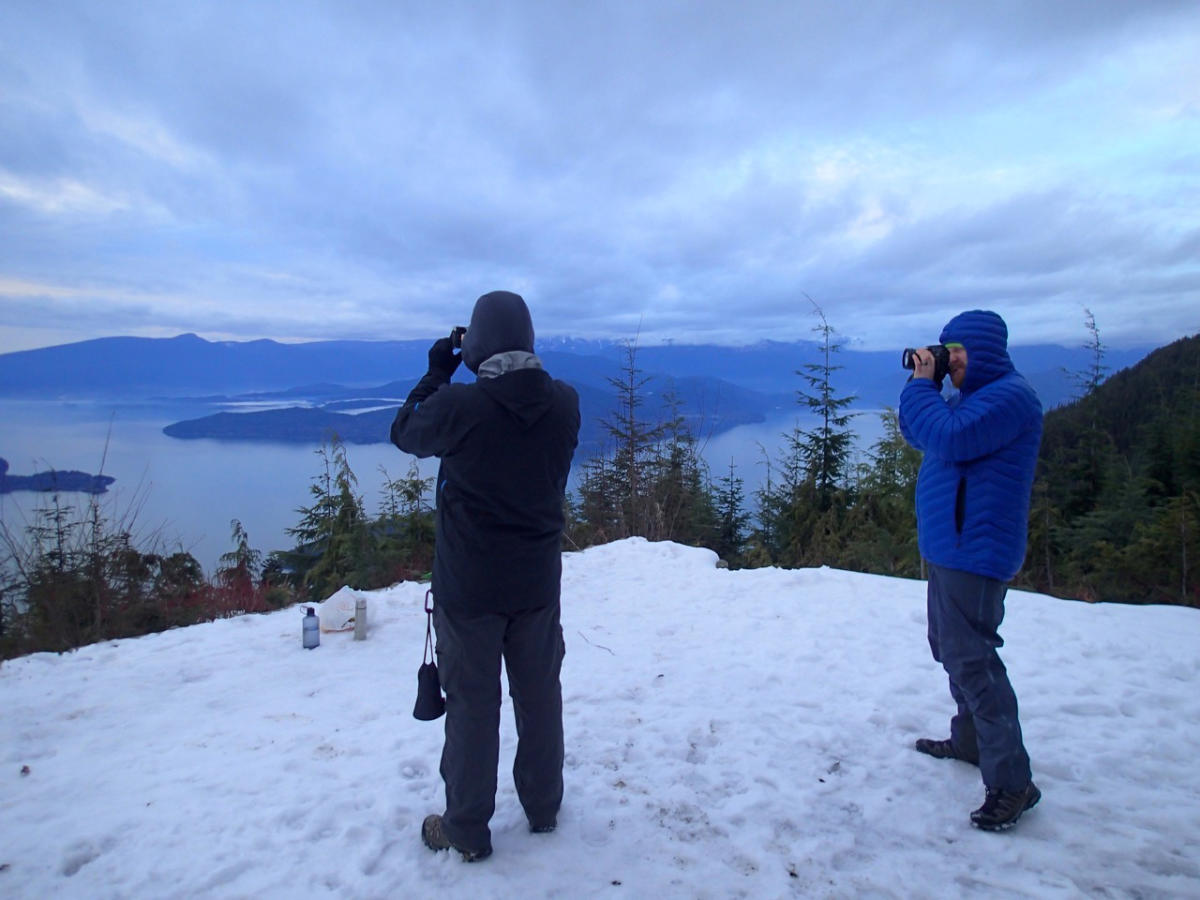 Bowen Lookout. Photo: Taryn Eyton
Snowshoe Grind, North Vancouver
While this route at the top of Grouse Mountain isn't as steep as the regular Grouse Grind, it is still a workout. Take the gondola to the top of Grouse, then follow the snowshoe routes into the backcountry. The trail finishes near the summit of Dam Mountain where there are good views of Vancouver and the surrounding mountains. Most snowshoers spend 1 to 1.5 hours round trip. Use this map to find your way.
Mount Seymour First Peak, North Vancouver
The challenging route to the First Peak of Mount Seymour (also known as Pump Peak) is a great option for experienced snowshoers. It's a steep route that can be very slippery near the top. From the summit, there are incredible views of Greater Vancouver to the south and an unbroken sea of snow-capped mountains to the north. Allow 4 to 5 hours for the trip. This trail guide will keep you on track.
Elk Mountain, Chilliwack
This challenging trail in Chilliwack leads to an incredible viewpoint on a ridge top. The trail to the top is a long and steady climb, but from the peak, you can look down to Chilliwack in one direction and the wilderness of the Chilliwack River Valley in the other. Due to the length and steepness of this trip, it's best for experienced snowshoers only. Use these directions to find your way.