Vancouver is surrounded by mountains, but you don't have to leave the city to experience nature. Our region is dotted with parks that protect forests, wetlands, meadows, and shorelines and include walking paths for human visitors. Here are our picks for 15 urban parks around Vancouver that feel like wilderness.
Stanley Park, Vancouver
Despite being located in the heart of downtown Vancouver, it's easy to feel like you have escaped to the wilderness in Stanley Park. Stroll the park's interior paths past giant cedar and Douglas fir trees and keep an eye out for eagles overhead.
Pacific Spirit Regional Park, Vancouver
Head out to Pacific Spirit Regional Park near UBC to leave the city behind. There are over 55 kilometres of trails winding through ferns, salal bushes, huckleberries, vine maples, cedars, Douglas firs, and more.
Everett Crowley Park, Vancouver
Off-the-beaten-path Everett Crowley Park in southeast Vancouver is a pocket of urban wilderness. Today you would never guess that it was a landfill site until the late 1960s. Walking paths wind through the forest with peek-a-boo views of the Fraser River.
Renfrew Ravine Park, Vancouver
You'll find Renfrew Ravine Park tucked away in East Vancouver near the 29th Avenue Skytrain Station. Walk the boardwalk along the banks of Still Creek and enjoy a quiet moment of wilderness bliss just steps from the bustling city.
Lighthouse Park, West Vancouver
West Vancouver's Lighthouse Park is sandwiched between the ocean and homes in the Caulfield neighbourhood. It's home to towering old-growth trees, spectacular sea cliffs, soaring eagles, and diving cormorants. Follow the popular path to the Lighthouse, or explore the less trodden forest trails.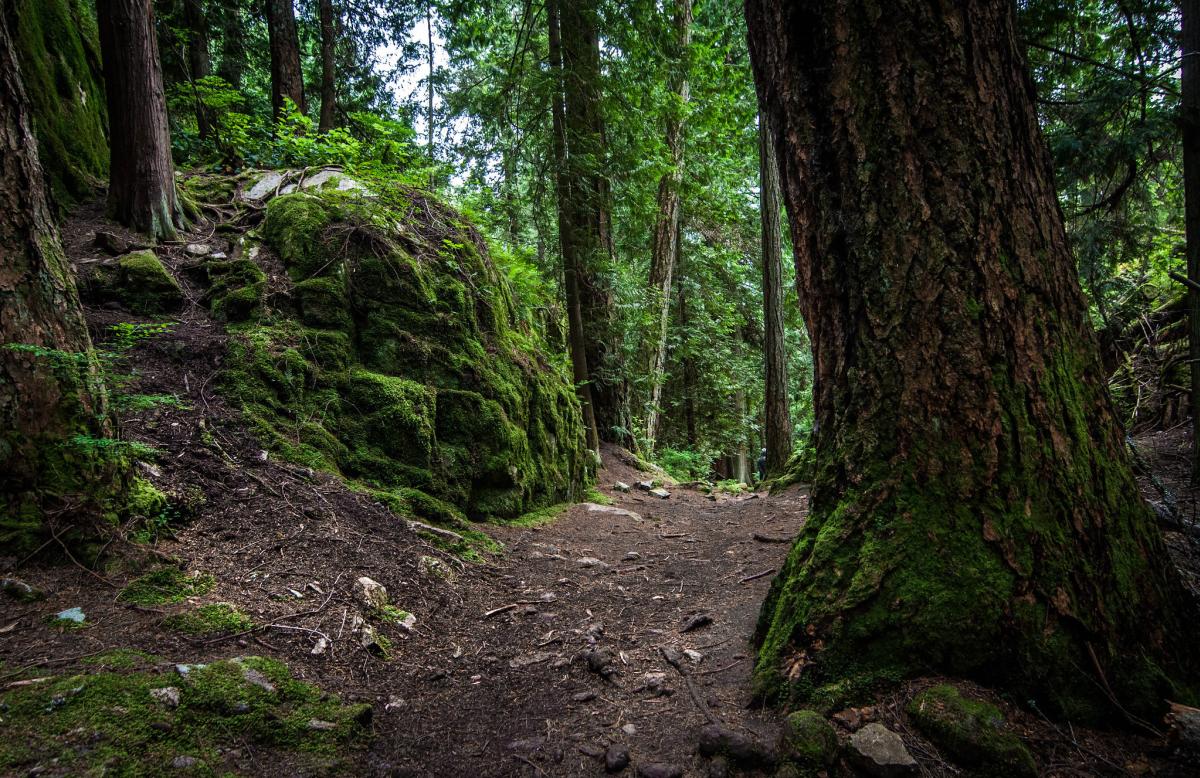 Forest path at Lighthouse Park. Photo: Colin Knowles on the Inside Vancouver Flickr Pool

Capilano Regional Park, North Vancouver
Stroll above steep canyon walls, spot towering Douglas fir and red cedar trees, and listen to the roar of the river in Capilano River Regional Park. You'll feel like you're deep in the backcountry, but you're actually steps from North Vancouver's residential streets.
Central Park, Burnaby
Escape to the forest in Burnaby's Central Park. Flat trails snake through groves of tall Western hemlock, cedar, Douglas fir, poplar, and maple trees. It's also a great habitat for many bird species including woodpeckers, towhees, robins, and finches.
Burnaby Lake Regional Park, Burnaby
Hidden in the middle of Burnaby, near Highway 1, is Burnaby Lake Regional Park. The large lake is surrounded by peat bog and forest and hosts over 200 bird species as well as beavers and coyotes. Walk the 10 km loop trail around the lake or explore the tall trees on the Conifer and Spruce Loop Trails.
Burnaby Mountain Conservation Area, Burnaby
Experience a mountain ecosystem in the middle of Burnaby. Burnaby Mountain Conservation Area has 28 kilometres of trails through the forest, alongside streams, and to spectacular viewpoints. Choose from flat and easy paths or the heart-pumping Velodrome Trail with over 500 stairs.
Mundy Park, Coquitlam
Mundy Park is a pocket of temperate rainforest in the centre of Coquitlam. With a mix of deciduous and coniferous trees, the habitat supports many bird, insect, and mammal species. Hike the trails into the heart of the park to visit Lost Lake, home to Western painted turtles.
Richmond Nature Park, Richmond
Before settlers arrived, most of Richmond was covered in a peat bog. See Richmond in its wilder state at the Richmond Nature Park. Walk the boardwalks and trails to discover the unique bog habitat with mats of sphagnum moss, carnivorous plants, shrubs, and tall trees.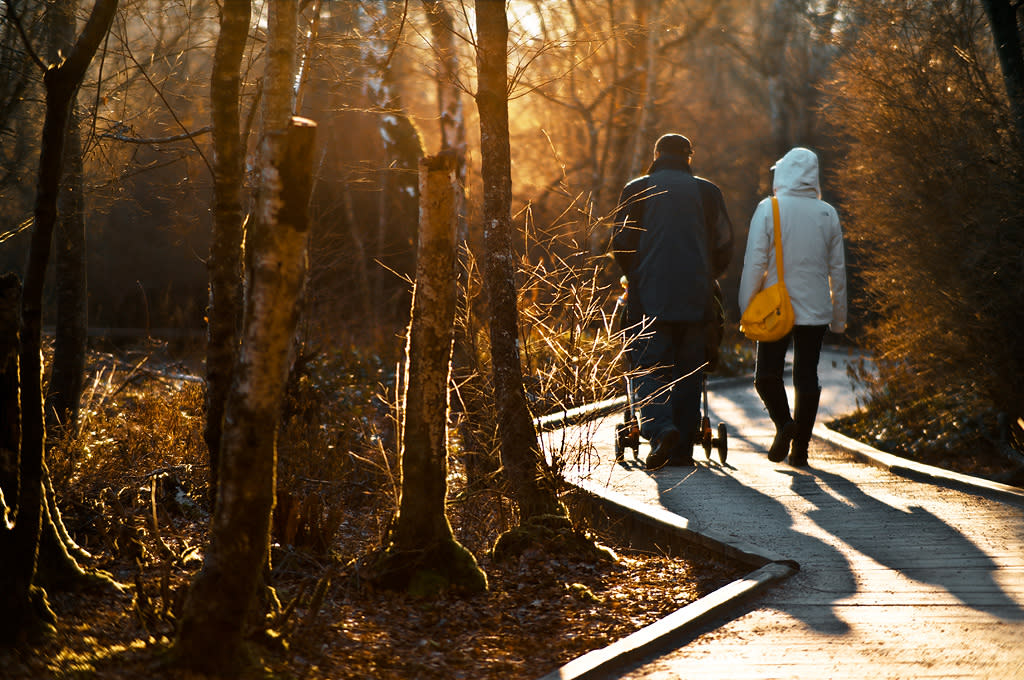 Richmond Nature Park. Photo: Totororo.roro in the Inside Vancouver Flickr pool

Deas Island Regional Park, Delta
Walk beside the Fraser River at Deas Island Regional Park. Follow the trails through cottonwood trees and sand dunes or watch for frogs and waterfowl in the quiet slough. You might be surprised to discover that this quiet nature oasis is directly over top of the Massey Tunnel on Highway 99!
Green Timbers Urban Forest, Surrey
Surrey's Green Timbers Urban Forest has been called British Columbia's "Birthplace of Reforestation". After being logged in the 1920s, it was quickly replanted and used as a forestry school and tree nursery. Today the park has over 10 kilometres of nature trails to explore.
Bear Creek Park, Surrey
Get in touch with nature at Bear Creek Park in the middle of Surrey. Beautiful trails wind through forests and meadows. The park is also home to two salmon-bearing streams. Visit in the fall to catch a glimpse of spawning Chum, Coho, and Chinook.
Campbell Valley Regional Park, Langley
Deep in Langley's farmlands sits Campbell Valley Regional Park. Follow the trails through forest, grassland, and wetland in the valley of the Little Campbell River. Watch for birds from the boardwalks along the river or red tailed hawks swooping through the open fields.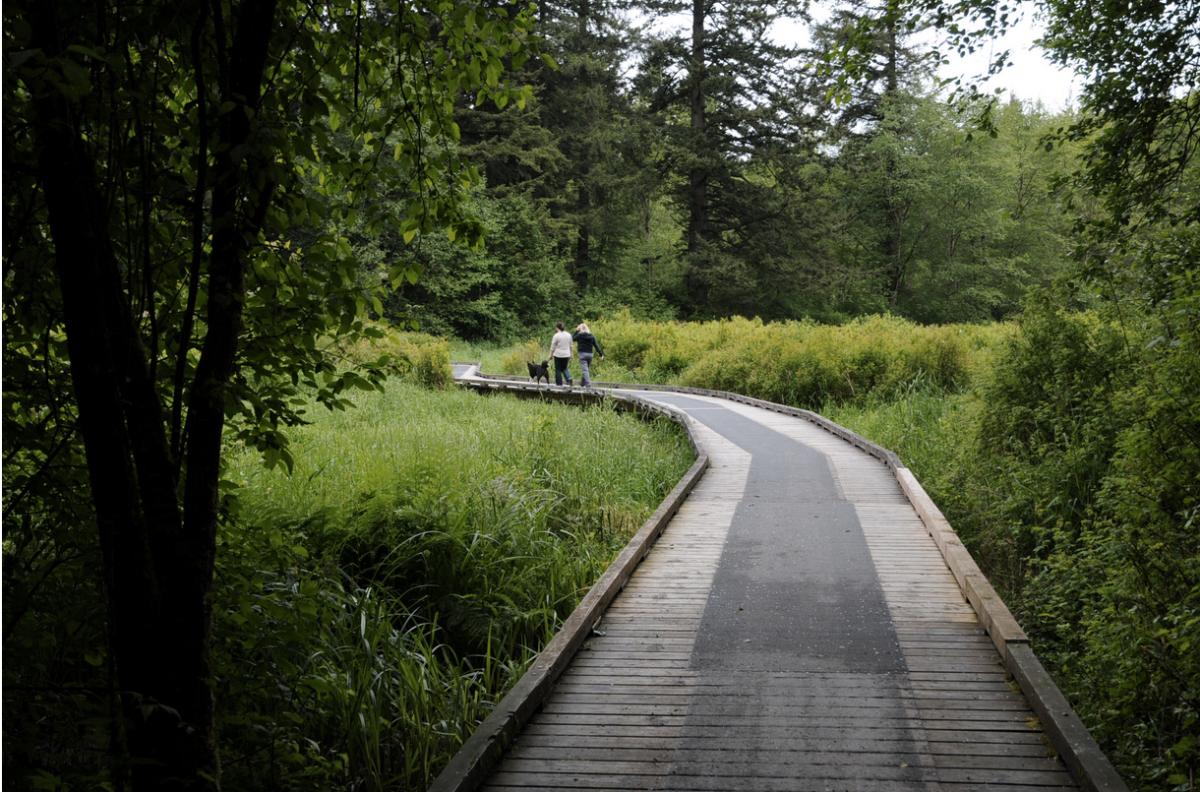 Boardwalk trail in Campbell Valley Regional Park. Photo: Campbell Valley Regional Park