Don't let the rain spoil your fun! Grab your rain gear and head out for a hike. The forest will look extra green, rivers and waterfalls will be more spectacular, and you may even have the trails to yourself. Here are our picks for the best rainy day hikes around Vancouver.
Safety First: AdventureSmart recommends bringing a backpack with essential safety and first aid gear on every hike. Check the forecast and pack extra clothing for the weather. Leave a trip plan so someone knows where you are going and when you will be back. Hiking is a little different during the pandemic. Read our tips for getting outdoors during COVID-19.
 
Pacific Spirit Regional Park, Vancouver
With over 50 kilometres of trails, there are countless hike options in Pacific Spirit Regional Park near UBC. Most of the trails have great tree cover, to keep you a little drier. Use the trail map to plan your route. Some great rainy day options are the Lily of the Valley Trail near 16th Avenue or the East and West Canyon Trails off Chancellor Boulevard. Both have sections of gorgeous rainforest 
 
Capilano Canyon, North Vancouver
With a network of connected trails, Capilano River Regional Park is a great choice for a rainy day. There are lots of hike options: Take a short walk to marvel at the massive Cleveland Dam and the mountains behind Capilano Lake. Walk through the rainforest to Grandpa Capilano, a giant Douglas-fir tree. Or walk the Capilano Pacific Trail beside the river all the way to the ocean at Ambleside Park. Use the trail map to choose your own adventure.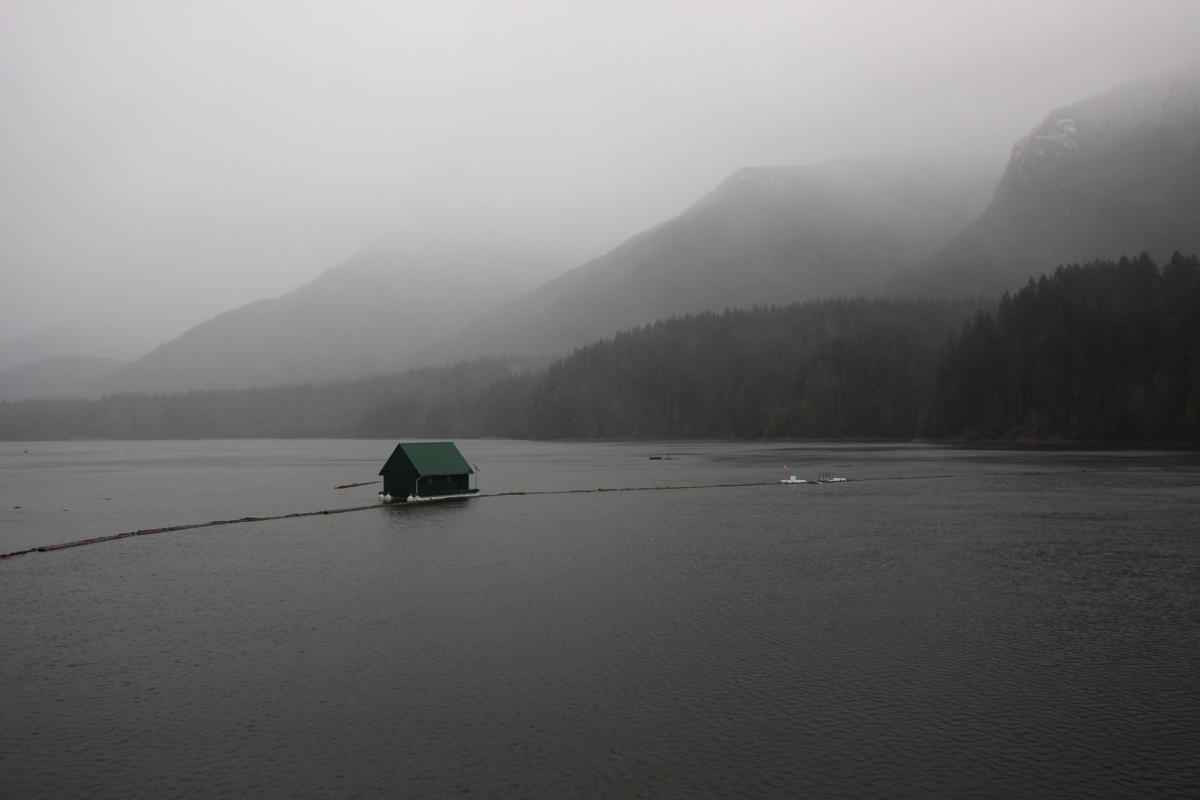 Capilano Lake. Photo Alex Geerts on Unsplash

Seymour River and Lynn Creek Loop, North Vancouver
On a rainy day, a hike next to a rushing river is a great choice. And this loop hike has two of them: Seymour River and Lynn Creek. You'll walk along beautifully mossy forest paths through deep river canyons and cross the fancy new suspension bridge over the Seymour River. It's an easy 8.5 km loop that takes about 3 hours. This hike uses a network of trails that can be confusing so bring a copy of the trail map and use our Seymour River and Lynn Creek Loop trail guide, which has turn-by-turn directions.
 
Rice Lake, North Vancouver
The trail around Rice Lake in the Lower Seymour Conservation Reserve is a great pick for a rainy day since it stays under the tree canopy. It's a short and flat loop hike that is perfect for families and beginners. Follow the path around the lake and be sure to take the side trails to great viewpoints. The 3km loop takes about an hour. Bring a copy of the trail map to stay on track.
 
Norvan Falls, North Vancouver
If you're looking for a longer hike for a rainy day, head to Norvan Falls in Lynn Headwaters Regional Park. The trail follows the banks of rushing Lynn Creek, then heads through the forest to 30-metre-tall Norvan Falls. After a few days of rain, the falls really gets pumping! Allow 5 hours for the hike since it's a 14 km round trip. Our Norvan Falls trail guide has step-by-step directions.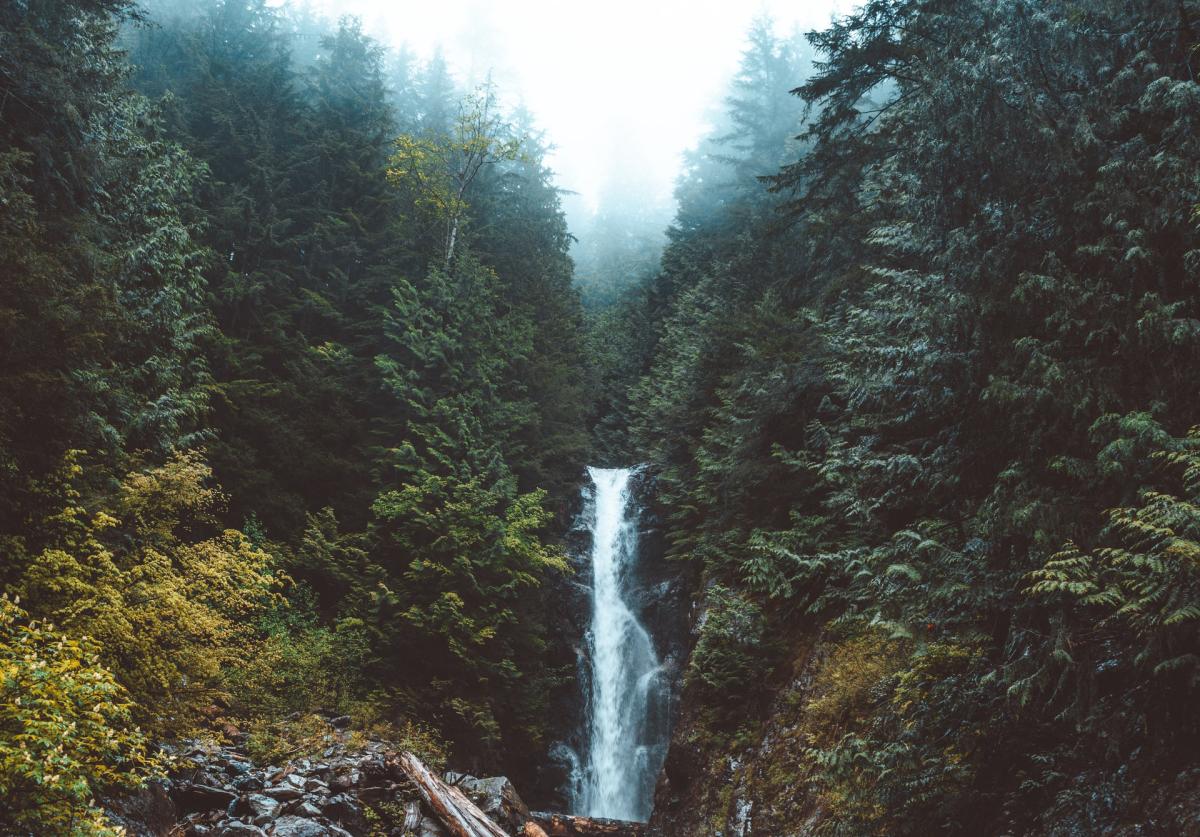 Norvan Falls. Photo: Mohammed Rezaie on Unsplash

Jug Island Beach, Belcarra
This easy hike in Belcarra Regional Park winds through a gorgeously mossy forest, then finishes at a tiny beach. On a rainy day, the mist swirls through the trees and the fog hanging over Indian Arm makes for great moody photos. The hike is 5.5 km round trip and takes about 2.5 hours. Use our Jug Island Beach trail guide to plan your trip.
 
Coquitlam Crunch, Coquitlam
Work up a sweat on the challenging Coquitlam Crunch trail, then let the rain cool you down. This hilly hike is Coquitlam's version of the Grouse Grind. It's a well-maintained trail with lots of gravel and stairs, so it doesn't get too muddy. The Crunch is 4.5 km round trip and pretty steep, so unless you run it, plan to take about 1.5 hours. Use the trail map to stay on track.
 
Minnekhada, Coquitlam
With beautiful green forests, misty marshes, and rocky outcrops, Minnekhada Regional Park in Coquitlam is a good choice for a wet day. Watch for water birds and amphibians in the marshes or admire the views of the Pitt River and nearby farms from the top of High Knoll. If you want to hike all the trails in the park, you can make a 10km loop in about 2.5 hours. But if it's really pouring, cut the loop short by using the Mid-Marsh Trail. Find your way with this trail map.
 
Gold Creek Canyon Loop, Maple Ridge
With the addition of a bridge across Gold Creek in 2015, you can now do a great loop hike on the East Canyon and West Canyon Trails in Golden Ears Provincial Park. When it rains, the mossy forest seems to glow bright green and the many creeks thunder. The hike is a 12 km loop that takes about 4 hours. Bring the park map to find your way.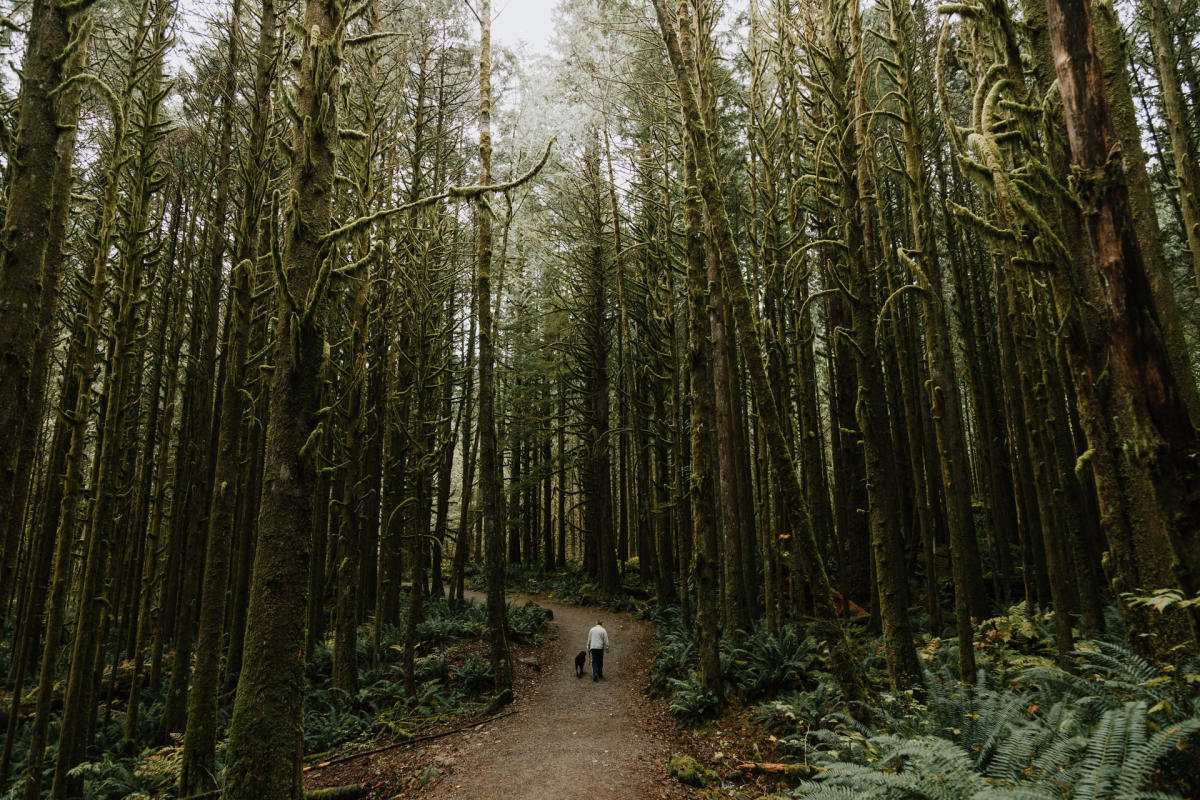 Hiking in Golden Ears Provincial Park. Photo: Priscilla du Preez on Unsplash

Cascade Falls, Mission
Thirty-metre-tall Cascade Falls is spectacular at any time of the year, but when it rains, the falls really gush and huge clouds of mist float through the air. The hike to the falls is very short, but it's also steep so take your time. There are viewing platforms on both sides of the creek, joined by a picturesque suspension bridge. Allow about an hour for the 1 km hike. Get trail info and directions on the Fraser Valley Regional Parks website.